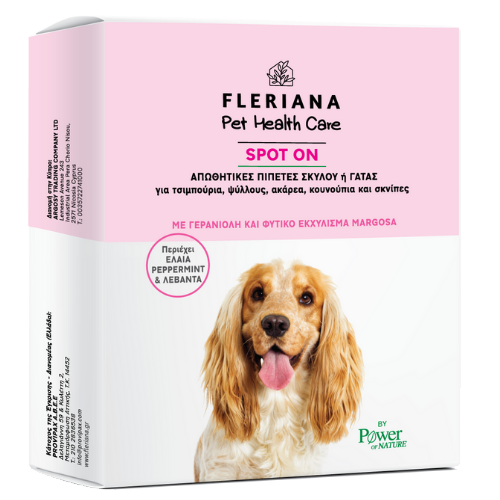 With a repellent action that lasts for 3 weeks
Spot On Pipettes for application directly onto the dog's or cat's skin. The pipettes can be applied preventively. Ideal for repelling ticks, fleas, mites, mosquitoes, gnats throughout the year. They consist of Margosa Extract (Azadirachta indica) & Geraniol along with peppermint and lavender oils. These highly effective substances penetrate the skin and hair of the pet and protect it by repelling external parasites.
Contents
margosa extract, geraniol
PACKAGE
3 Pipettes of 5ml
Recommended usage:
| | |
| --- | --- |
| Pet | Dosage |
| Cats & dogs up to 15kg | 1,5ml |
| Dogs 15-30kg | 3ml |
| Dogs above of 30kg | 5ml |
In cases of severe infestation the application can be repeated in a shorter period of 3 weeks but not less than one week.
Special precautions
Do not use in puppies under 16 weeks.
Do not apply to injured animal skin.
Do not apply to pregnant or lactating animals (dogs, cats).
Keep in a cool and dry place out of sight and reach of young children. Keep the product away from heat, light or humidity.
Approved by the Ministry of Rural Development and Food (Approval No.: ΤΠ19-0417)