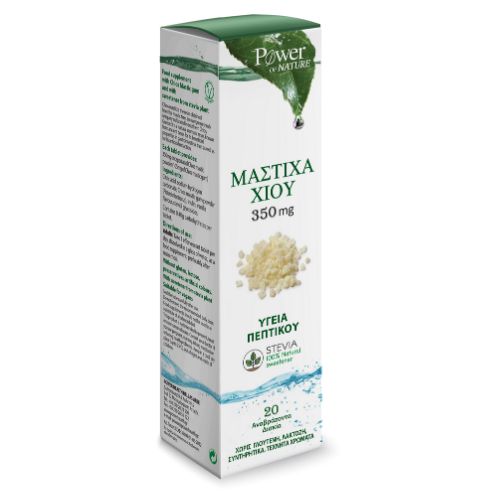 Chios Mastic, a treasure from Greek nature!
We need to have strength and strong stomach to respond, especially today, to our daily obligations.
Chios Mastic is a unique natural food of Greek origin and world renown, since it grows only in Chios special climate. It is a natural aromatic resin that comes out of the branches of the mastic tree. It is known for many years to the scientific community, as clinical studies and researches are being carried out to confirm its properties.  "Chios Mastic" from Power Health, the only in effervescent form, will excite you with its wonderful flavor and make it … easy to digest your everyday life. Enjoy it everyday!
Active Ingredients per tablet
Chios Mastic Gum (Pistacia lentiscus) 350 mg
Adults
1 tablet per day, dissolved in a glass of water, as food supplement, preferably after main meal.
Seal the tube carefully after use
Free from
Artificial colors, preservatives, gluten and lactose
Pregnancy / Breastfeeding
Don't take nutritional supplements during pregnancy or lactation without your doctor's permission.
Diabetes
Each effervescent tablet provides 0.4g of carbohydrates
Seal carefully after use. Keep in a cool, dry place (up to 25 οC), out of sight and reach of children. Keep the product away from heat, light or humidity. Do not exceed the recommended daily dose.  Food supplements should not be used as a substitute of a balanced diet. This product is not intended to prevent, treat or cure human disease. Consult your doctor if you are pregnant, nursing, taking medication or facing health problems.
Notification Number of NOM (National Organization for Medicines): 39698/01-06-2012
The notification number of NOM is not a marketing authorization.