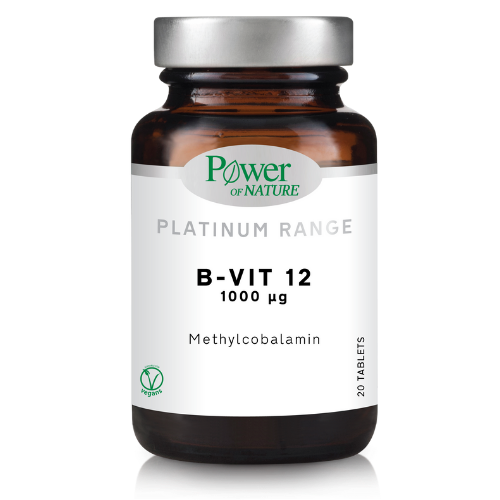 Vitamin B12 or cyanocobalamin, is one of the eight B complex vitamins, and is beneficial for many functions of our body. Vitamin B12 is found mainly in animal products, so it is often chosen as a dietary supplement by vegetarians.
Vitamin B12 contributes to*:
Normal energy-yielding metabolism.
Normal functioning of the nervous and immune system.
Normal homocysteine
Normal psychological function.
Normal red blood cell
The reduction of tiredness and fatigue.
Has a role in the process of cell division.
*Official claims by the European Food Safety Authority (EFSA).
B Vit-12 is a Food Supplement suitable for:
People with low levels or deficiency of vitaminB12
Vegetarians
People with impaired B12 absorption
Active ingredients per tablet
1000mcg Vitamin B12 (40000% R.D.A*)
* % R.D.I.: Recommended Daily Intake
The Vitamin B12 of the series Classics Platinum Range gives what a weak meal in animal ingredients cannot offer to the body. With these 500 millionths of a gram of cyanocobalamin every day the specific needs of the cells are covered with the most powerful supplement. The tablet warrants the suitability for vegetarians.
Adults:
Take 1 tablet, preferably before breakfast, as food supplement, or according tο your doctor's directions.
Free from
Sugar , gluten , lactose, preservatives
Content
60 tablets
Pregnancy / Breastfeeding
Don't take nutritional supplements during pregnancy or lactation without your doctor's permission.
A nutritional supplement should not be used as a substitute of a well-balanced diet.
Seal carefully after use. Keep in a cool, dry place (up to 25 οC), out of sight and reach of children. Keep the product away from heat, light or humidity. Do not exceed the recommended daily dose.  Food supplements should not be used as a substitute of a balanced diet. This product is not intended to prevent, treat or cure human disease. Consult your doctor if you are pregnant, nursing, taking medication or facing health problems.
Notification Number of NOM (National Organization for Medicines): 47801/ 14-06-2013
The notification number of NOM is not a marketing authorization.