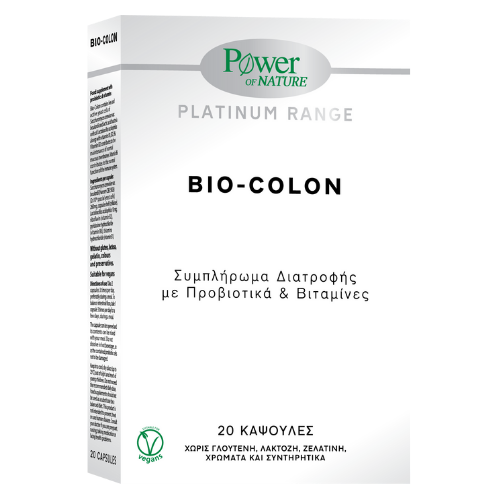 Bio- Colon is a unique synthesis of two probiotic strains, enhanced by the vitamins Β1, Β2 and Β6:
Probiotics: Specific combination of Saccharomyces cerevisiae Hansen CBS 5926 (specific yeast cells), with Lactobacillus acidophilus strains.
Vitamins B1 and B6: Contribute to normal energy-yielding metabolism*.
Vitamin B2: Contributes to the maintenance of normal mucous membranes*.
*Official claims by the European Food Safety Authority (EFSA).
Active ingredients per capsule:
Saccharomyces cerevisiae Hansen CBS 5926 (yeast cells) 2 x 109 (66%), Lactobacilus acidophilus L(+) (3%), natural cellulose 72 mg, vitamin Β1 ,vitamin Β2, vitamin Β6.
Ingredients per capsule
Vitamins Per Capsule % RDA
Β1 0.25mg 22.7%
Β2 0.35mg 21.9%
Β6 0.5mg 33.3%
* % R.D.A:  Recommended Daily Allowance
2 capsules three times a day, before or during a meal. To improve intestinal health continue taking the supplement for several days, consuming 1 capsule three times a day, before or during a meal. If preferable you can open the capsule and mix in your food. Do not dissolve in hot beverages to preserve the properties of probiotic cells.
Free from
Preservatives, gluten, lactose, colors.
Content
20 capsules
Pregnancy / Breastfeeding
Do not take nutritional supplements during pregnancy or lactation without your doctor's permission.
Seal carefully after use. Keep in a cool, dry place (up to 25 οC), out of sight and reach of children. Keep the product away from heat, light or humidity. Do not exceed the recommended daily dose.  Food supplements should not be used as a substitute of a balanced diet. This product is not intended to prevent, treat or cure human disease. Consult your doctor if you are pregnant, nursing, taking medication or facing health problems.
Authorization Number: 67638/2003