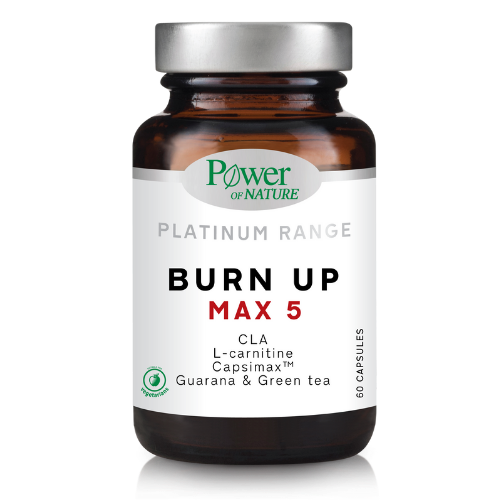 With capsicum extract Capsimax™
BURN UP ΜΑΧ 5 is a nutrients combination of L-carnitine, conjugated linoleic acid (CLA), guarana, green tea and capsicum extracts, niacin and vitamin B6. Niacin and vitamin B6 contribute to normal energy-yielding metabolism, while vitamin B6 also contributes to normal protein and glycogen metabolism.*
*Official claims by the European Food Safety Authority (EFSA).
Active ingredients per 2 capsules:
L-carnitine 170mg, CLA 80mg, caffeine (from guarana and green tea extracts) 33mg, niacin 9mg (56%*), capsicum extract Capsimax™ 5mg (min. 2% capsaicinoids), vitamin B6 1mg (71%*).
*D.R.I.: Daily Reference Intake
Ingredients:
L-carnitine L-tartrate, capsule shell (hydroxypropyl methylcellulose, red iron oxide), conjugated linoleic acid (CLA) in powder (milk), guarana seed extract (Paullinia cupana Kunth) (sulphur dioxide / sulphites), green tea leaves dry extract (Camellia sinensis L.), microcrystalline cellulose, nicotinamide (niacin), pyridoxine hydrochloride (vitamin B6), Capsimax™ capsicum extract (Capsicum annuum L.), magnesium stearate.
For allergens see ingredients highlighted in bold.
Adults
Everyday take 2 capsules after a meal, as a food supplement or take as directed by your doctor.
Should be taken along with a balanced diet and a healthy lifestyle. Not suitable for people sensitive to caffeine.
Free from
Sugar, gluten, preservatives.
Suitable for vegetarians
Content
60 capsules
Do not exceed the recommended daily dose. Food supplements should not be used as a substitute for a balanced diet. This product is not intended to prevent, treat or cure human disease. Consult your doctor if you are pregnant, nursing, taking medication or facing health problems.
Notification Number of NOM (National Organization for Medicines): 14967/11-02-2022
The product is not subject to licensing procedure