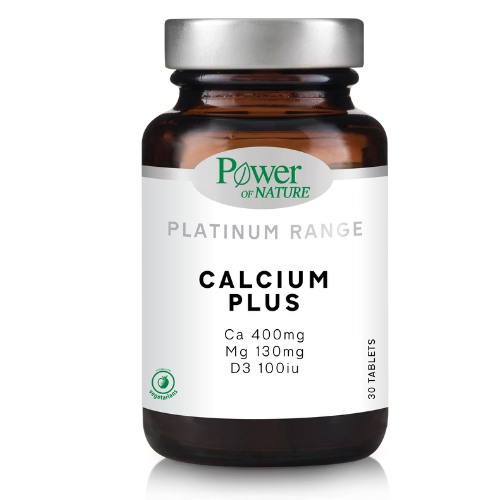 The major part of calcium is found in our bones and teeth and constitutes approximately 2% of the weight of the human body. For maximum utilization of calcium, sufficiency of vitamin D and magnesium is necessary.
Calcium Plus is a formula consisting of calcium, vitamin D and magnesium which contribute to:
The maintenance of normal bones and teeth*.
Normal muscle function*.
Calcium and vitamin D:
Help to reduce the loss of bone mineral in post-menopausal women. Low bone mineral density is a risk factor for osteoporotic bone fractures*.
Are needed for normal growth and development of bone in children*.
Additionally Vitamin D contributes to:
Normal absorption/utilisation of calcium and phosphorus & normal blood calcium levels*.
Helps to reduce the risk of falling associated with postural instability and muscle weakness. Falling is a risk factor for bone fractures among men and women 60 years of age and older*.
*Official claims by the European Food Safety Authority (EFSA).
Calcium Plus is a Food Supplement suitable for:
Calcium deficiency
People with weak skeletal system
Children and adolescents
Women in menopause
Older adults
Seniors
Active ingredients per tablet:
Calcium (Ca) 400 mg
Magnesium (Mg) 130 mg 130 mg
Vitamin D3 (cholecalciferol) 2,5 μg (100 iu)
The Calcium Plus ensures maximum absorption of calcium and it is combined vitamin D, in bioavailable form of D3- cholecalciferol – and magnesium .
Take 1-2 tablets , preferably after a meal
Free from
Sugar , gluten , lactose, preservatives
Content
30 tablets
Pregnancy / Breastfeeding
Consult your doctor if you are pregnant, nursing, taking medication or facing health problems.
Seal carefully after use. Keep in a cool, dry place (up to 25 οC), out of sight and reach of children. Keep the product away from heat, light or humidity. Do not exceed the recommended daily dose.  Food supplements should not be used as a substitute of a balanced diet. This product is not intended to prevent, treat or cure human disease. Consult your doctor if you are pregnant, nursing, taking medication or facing health problems.
Notification Number of NOM (National Organization for Medicines): 2067/12-01-2011
The notification number of NOM is not a marketing authorization.