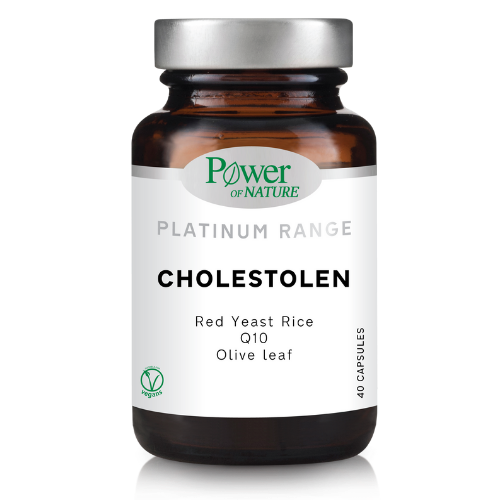 Synergistic formula with specialized ingredients of natural origin
Unique synergistic formula with a specific combination of monacolin K from red yeast rice, olive leaf extract and choline. The formula is supported by the essential micronutrients zinc, vitamin B1 (thiamine) and coenzyme Q10.
Cholestolen is a formula consisting of the following nutrients:
Monacolin K from red yeast rice
Olive leaf extract:Well known for its protective properties.
Choline: Contributes to normal lipid metabolism*.
Zinc: Contributes to normal metabolism of fatty acids and micronutrients*.
Vitamin B1: Contributes to the normal function of theheart*.
Coenzyme Q10: Involved in the transport of oxygen in the energy production cycle of the body's cells.
*Official claims by the European Food Safety Authority (EFSA).
Cholestolen is a Food Supplement suitable for:
People on a high-fat diet
People with excess body weight
Platinum Features:
With red yeast rice attributing monakolin K
With olive leaf extract standardized in oleuropein
With specialized ingredients for blood lipid control
Active ingredients per capsule
Olive Leaf Extract (stand. in 6% oleuropein) 225mg, Red Yeast Rice (that attributes 2,9mg monacolin K) 100mg, Choline 41mg, Zinc 5mg (50%*), Coenzyme Q10 5mg, Vitamin B1 0,55mg (50%*).
*D.R.I.: Daily Reference Intake
Take 1 capsule per day after meal.
Free from
Sugar, gluten, lactose, preservatives.
Suitable for vegans
Content
40 capsules
Do not exceed the recommended daily dose. Food supplements should not be used as a substitute for a balanced diet. This product is not intended to prevent, treat or cure human disease. Consult your doctor if you are pregnant, nursing, taking medication or facing health problems.
Notification Number of NOM (National Organization for Medicines): 137519/14-11-2019
The notification number of NOM is not a marketing authorization.