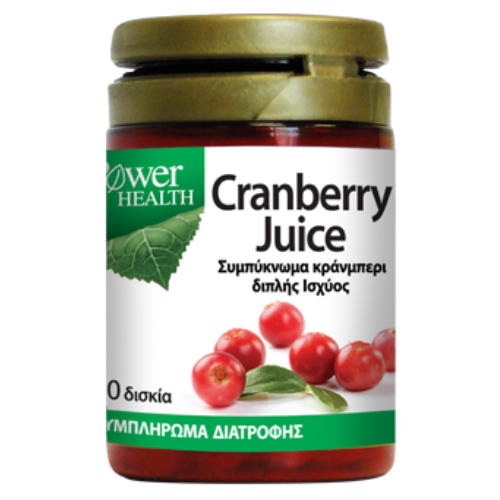 With 4.500mg fresh cranberry per tablet!
What happens when a fruit "encloses" the nutritional value of many fruits together? Then we are talking about an overpowering sense! Indeed, native Americans used the "red treasure" to prepare a "survival cake" as they called it! Cranberry is a source of vitamins B, magnesium, potassium and copper. But what makes the fruit standing out is its content in "phyto-nutrients", such as proanthocyanidins, anthocyanins, flavonoids and terpenes.
Cranberry Juice from Power Health is a food supplement and each tablet corresponds to 4.500mg of fresh cranberry providing all the benefits of this exceptional fruit.
Active ingredients
Each tablet contains on average 180mg of 25: 1 powdered cranberry juice concentrate, which is equivalent to 4.500mg of fresh cranberries.
Adults:
Take 1-2 tablets a day.
Free from
Sugar, gluten, lactose, preservatives
Content
30 tablets
Seal carefully after use. Keep in a cool, dry place (up to 25 οC), out of sight and reach of children. Keep the product away from heat, light or humidity. Do not exceed the recommended daily dose.  Food supplements should not be used as a substitute of a balanced diet. This product is not intended to prevent, treat or cure human disease. Consult your doctor if you are pregnant, nursing, taking medication or facing health problems.
Notification Number of NOM (National Organization for Medicines): 2068/12-01-2011
The notification number of NOM is not a marketing authorization.