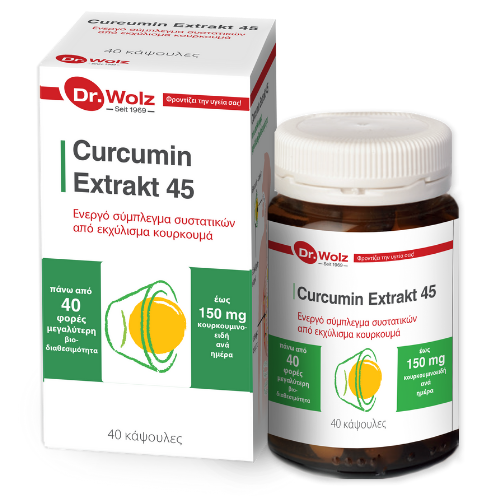 with more than 40x greater bioavailability
Dr. Wolz's Curcumin Extrakt 45 has succeeded in significantly increasing the bioavailability of curcumin and providing the body with as much curcumin as possible so that its benefi t can be fully utilised. The bioavailability of Dr. Wolz's Curcumin is up to 40 times higher than that of pure curcumin powder or conventional curcumin products! How can this be? The fat-soluble (lipophilic) curcumin molecules are embedded in a ring of glucose molecules (the so-called cyclodextrins) to form a hydrophilic (water-friendly) exterior and a lipophilic, i.e. fat-friendly cavity in their interior. The curcumin molecules remain in this cavity until they have reached the intestine. There the cyclodextrin molecules transport them separately to the intestinal wall where they can be absorbed while the cyclodextrin is being broken down and excreted.
| | |
| --- | --- |
| Average nutritive value | Per capsule |
| Curcuminoids | 50 mg |
Ingredients: Capsule contents: Micro-encapsulated curcumin (Gamma cyclodextrin, curcumin 15%). Capsule casing: Hydroxypropylmethylcellulose
Adults: Take 1-3 capsules daily, preferably after meal, as a food supplement, or take as directed by your doctor.
Free from
gluten, lactose, fructose, colorants, piperine or polysorbate
Suitable for vegans
Content
40 capsules
Pregnancy / Breastfeeding
Consult your doctor if you are pregnant, breastfeeding, you are under medication or experiencing health problems.
Diabetics
Suitable for diabetics
Seal carefully after use. Keep in a cool, dry place (up to 25 οC), out of sight and reach of children. Keep the product away from heat, light or humidity. Do not exceed the recommended daily dose.  Food supplements should not be used as a substitute of a balanced diet. This product is not intended to prevent, treat or cure human disease. Consult your doctor if you are pregnant, nursing, taking medication or facing health problems.
Notification Number of NOM (National Organization for Medicines): 127998/25-10-2019
The notification number of NOM is not a marketing authorization.