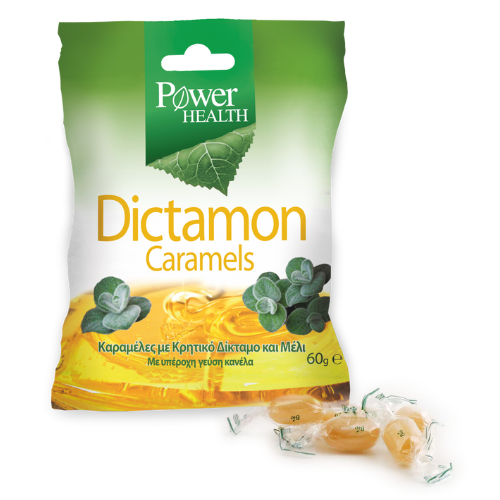 With authentic Cretan dittany!
The Cretan recipe for the winter
Tasty caramels from Power Health. Every candy is made of Cretan dittany and honey.
Dittany is one of the most famous plants of Crete, as it grows only on this island! Dictamon Caramels are ideal for the winter season. Cinnamon flavor.
Nutritional values
Per 100 g
Per candy (3,8g)
% R.D.I.*
Εnergy
1638kj/391kcal
63kj/15kcal
1%
Fats
0g
0g
0%
From which saturated
0g
0g
0%
Υδατάνθρακες / Carbonhydrates
97,8g
3,8g
1%
From which sugars
76,3g
2,9g
3%
Proteins
0g
0g
0%
Salt
0g
0g
0%
* Reference Daily Intake for adults (8400Kj / 2000Kcal).
The product may contain traces of nuts, groundnuts, soybean, sesame, gluten or milk.
Consumed in the context of a balanced diet and a healthy lifestyle.
Content
The package contains about 15 candies.
Net weight: 60g e