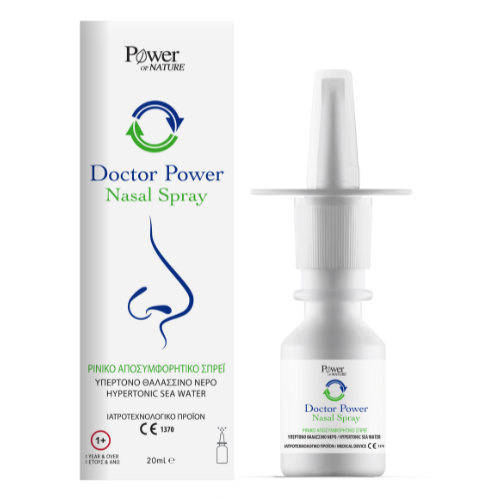 Medical device with hypertonic sea water for nasal decongestion
Doctor Power Nasal Spray is a medical device for the treatment of common cold symptoms, rhinosinusitis and sinusitis. It has a decongestant effect of the nasal mucous and a loosening effect on the mucus, favoring the secretions drainage from the respiratory tract. Thanks to the barrier effect of sodium hyaluronate and its polysaccharide component, it protects and soothes the core nasal mucous membranes, hydrating and wound healing them.
This product is suitable for adults and children of over 1 year of age.
Demineralized water, concentrated seawater, sodium hyaluronate, methylsulfonylmethane, resveratrol, carboxymethyl cellulose, polysorbate 80, sodium lactate, malic acid, potassium sorbate, sodium benzoate.
DOSE, METHOD AND TIME OF ADMINISTRATION
Adults: 1-2 nebulizations per nostril,
Children from 1 to 12 years: 1 nebulization per nostril,
2-3 times a day or according to your doctor's advice.
In case of pregnancy, breastfeeding and for children under one year of age, ask a doctor before use. This product can be used at any time of the day. Treatment duration depends on symptom improvement. If helpful to further improve its action, this product can be administered for a longer period. Maximum treatment duration: 30 days. Shake before use. Once opened, use the product within 2 months.
INSTRUCTIONS FOR USE
Shake the product and remove the cap from the dispenser. Insert the tip of the dispenser into your nostril, pressing on the other one to close it up. For children administration, place the dispenser under the nostril and press gently. Press the two little wings quickly and firmly to squirt the amount into the nostril, inhaling deeply with your mouth closed. Repeat the procedure with the other nostril. Replace cap after use to close the dispenser.
Free from
Gluten, lactose.
Content
20 ml
Keep out of reach of children. Do not use the device beyond the expiration date or if the package, when first opened, is damaged or not intact. Do not dispose of the container in the environment after use.
CONTRAINDICATIONS
Do not use the product in case of known hypersensitivity or incompatibility with even a single component of the formulation. No studies have been conducted during pregnancy and lactation, before taking the product seek for your doctor's advice.
Doctor Power Nasal Spray is a registered medical device. The effectiveness and safety were assessed according to the European Directive concerning Medical Devices (93/42/EEC).