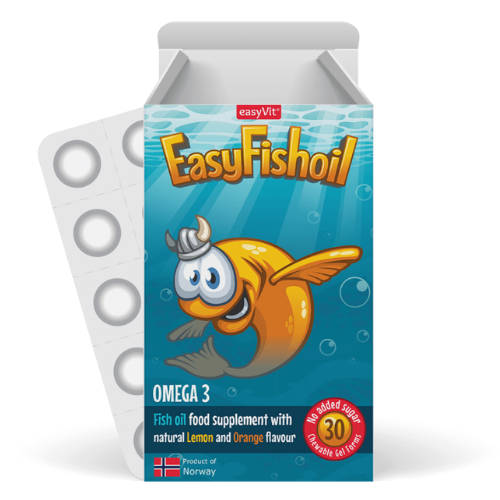 Based on Concordix® technology that guarantees high absorption and bioavailability
Smart chews rich in Omega 3!
Food supplements Easyfishoil by EasyVit® offer all the beneficial benefits of Omega 3 fatty acids and support children's daily needs.
EasyFishoil are the most delicious fish oil jellies, rich in Omega 3 and other nutrients that children will love!
EasyFishoil
Food supplement containing omega 3 and vitamin D3
EasyFishoil is high in Omega 3 fatty acids and vitamin D3. DHA contributes to the maintenance of normal brain function and normal vision.* Vitamin D is needed for the normal development of children's bones.
*The beneficial effect is obtained with a daily intake of 250mg of DHA
Active Ingredients
Attributed amount
per 1 chewable gel
% D.R.I.**
Fish oil concentrate
600 mg
–
Total Omega 3 fatty acids
378 mg
–
      DHA
270,9 mg
–
      EPA
59,5 mg
–
Vitamin D3
5 μg (200IU)
100%
*D.R.I.: Daily Reference Intake
Children aged 3-12 years are recommended to use 1 chewable gel per day, preferably after meal, as a food supplement.
Free from
added sugar, gluten, lactose, soy, preservatives
With natural sweeteners
With natural lemon & orange flavor
Content
30 chewable jellies
Do not use product with damaged packaging. Keep in a cool, dry place (up to 25οC), out of sight and reach of young children. Do not exceed the recommended daily dose. Food supplements should not be used as a substitute for a balanced diet. This product is not intended to prevent, treat or cure human disease. Consult your doctor if you are pregnant, nursing, taking medication or facing health problems.
Notification Number of NOM (National Organization for Medicines): 72170/29-06-2022
The notification number of NOM is not a marketing authorization.