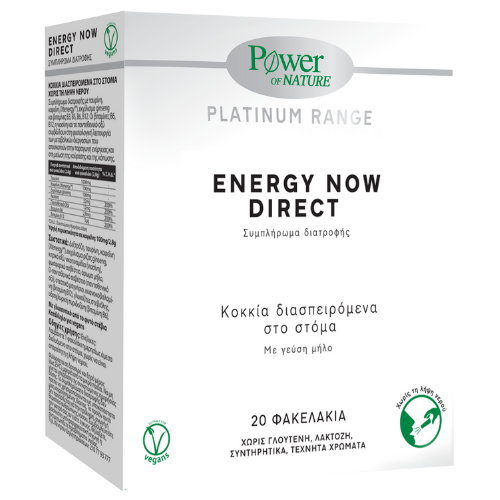 Convenient form for ''on the go'' intake
FOOD SUPPLEMENT
ORALLY DISINTEGRATING GRANULES WITH APPLE FLAVOUR
You can enjoy the supplement wherever you are… in the gym, in the office, in any activity inside and outside home. Feel the wonderful sensation of the granules melting directly in the mouth by releasing a rich and delicious taste.
Energy Now Direct is in a new innovative form of granules without water intake needed. It contains taurine, caffeine (Xtenergy™), ginseng extract and vitamins Β3, Β5, Β6, Β12. Vitamins Β6, Β12, niacin and pantothenic acid contribute to normal energy-yielding metabolism and to the reduction of tiredness and fatigue*.
*Official claims by the European Food Safety Authority (EFSA).
| | | |
| --- | --- | --- |
| ACTIVE INGREDIENTS PER STICK (2,8g) | ATTRIBUTED AMOUNT PER STICK (2,8g) | % D.R.I.* |
| Taurine | 1000mg | – |
| Caffeine (Xtenergy™) | 100mg | – |
| Ginseng extract | 100mg | – |
| Niacin | 32mg | 200% |
| Pantothenic acid | 12mg | 200% |
| Vitamin Β6 | 2,8mg | 200% |
| Vitamin Β12 | 5μg | 200% |
*D.R.I.: Daily Reference Intake
High caffeine content: 100mg/2,8g
Adults:
Take 1 stick daily, directly dissolvable in the mouth without water intake being necessary.
Free from
Gluten, lactose, preservatives, artificial colours.
With sweetener from stevia plant
Suitable for vegans
Content
20 sticks
Keep in a cool, dry place (up to 25οC), out of sight and reach of young children. Do not exceed the recommended daily dose.  Food supplements should not be used as a substitute for a balanced diet. This product is not intended to prevent, treat or cure human disease. Consult your doctor if you are pregnant, nursing, taking medication or facing health problems.
Notification Number of NOM (National Organization for Medicines): 96577/14-09-2022
The notification number of NOM is not a marketing authorization.