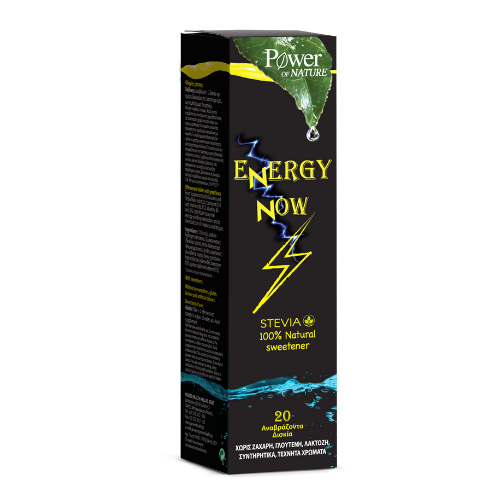 Effervescent tablets with natural ingredients  that alert body and soul!
Energy Now is a food supplement with Guarana, Yerba Mate, Q10 and vitamins B6 and B12.
Energy Now  is a formula consisting of the following nutrients:
Guarana: A plant growing in the Amazon rainforest. It provides about twice the amount of caffeine than the coffee beans.
Yerba Mate: A plant growing in Latin America. It is rich not only in micronutrients, but also in caffeine.
Coenzyme Q10: Coenzyme Q10, also known as ubiquinone, is found and produced in all of our cells. It works as a coenzyme for the transfer of oxygen during the process of energy production.
Vitamins B6 and B12: Contribute to the reduction of tiredness and fatigue, to normal energy-yielding metabolism, to normal psychological function and to normal functioning of the nervous system *.
*Official claims by the European Food Safety Authority (EFSA).
| | |
| --- | --- |
| Active ingredients | per tablet: |
| Guarana extract | 250mg (min 10% caffeine) |
| Yerba Mate extract | 250mg (min 8% caffeine) |
| Vitamin B6 | 4,4mg (293% RDA*) |
| Coenzyme Q10 | 2mg |
| Vitamin B12 | 1,4μg (86% RDA*) |
*RDA: Recommended Daily Allowance
* Source of phenylalanine
Average content of natural caffeine (per tablet): 45mg
Take 1-2 effervescent tablets in a glass of water, as a food supplement, when you need energy.
Free from
Sugar, gluten, lactose, preservatives
Content
20 effervescent tablets
Pregnancy / Breastfeeding
Consult your doctor if you are pregnant, breastfeeding, you are under medication or experiencing health problems.
Not recommended for people with high sensitivity in caffeine.
Seal carefully after use. Keep in a cool, dry place (up to 25 οC), out of sight and reach of children. Keep the product away from heat, light or humidity. Do not exceed the recommended daily dose.  Food supplements should not be used as a substitute of a balanced diet. This product is not intended to prevent, treat or cure human disease. Consult your doctor if you are pregnant, nursing, taking medication or facing health problems.
Notification Number of NOM (National Organization for Medicines): 37878/24-05-2011
The notification number of NOM is not a marketing authorization.