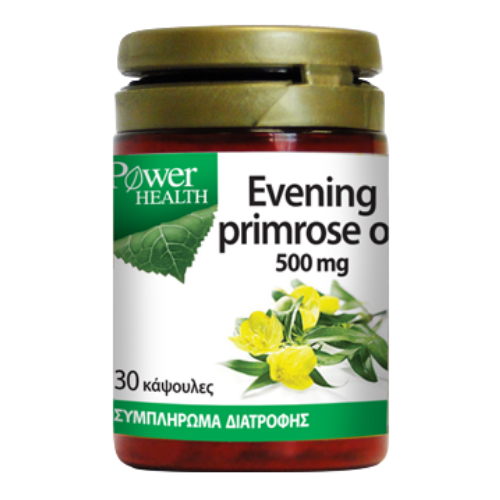 Evening Primrose oil is a rich natural source of a polyunsaturated fatty acid called gamma linolenic acid (GLA) with multiple beneficial properties. GLA belongs to the family of essential omega- 6 polyunsaturated fats, which the body is unable to synthesize it on its own. Their daily dietary intake is therefore more than necessary. Linolenic acid is a form of omega-6 found in cooking oils, but a more desirable form of it is γ-linolenic acid (GLA), which is found in addition to evening primrose oil, black currant and vegetable oils. The body converts GLA into a group of substances called prostaglandins that play an important role in the body.
Active ingredients per capsule
Evening Primrose Oil: 500 mg (9% G.L.A.)
Adults:
take 1 capsule per day with your meals, as a food supplement.
Free from
Sugar, gluten, lactose, preservatives
Content
30 capsules
Seal carefully after use. Keep in a cool, dry place (up to 25 οC), out of sight and reach of children. Keep the product away from heat, light or humidity. Do not exceed the recommended daily dose.  Food supplements should not be used as a substitute of a balanced diet. This product is not intended to prevent, treat or cure human disease. Consult your doctor if you are pregnant, nursing, taking medication or facing health problems.
Notification Number of NOM (National Organization for Medicines): 54547/21-7-2009
The notification number of NOM is not a marketing authorization.