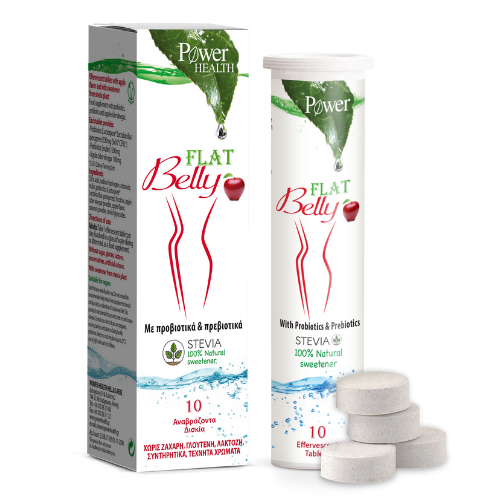 Combination of probiotics and prebiotics with apple cider vinegar
Effervescent tablets with apple flavor and with sweetener from stevia plant
Flat Belly food supplement contains as active ingredients:
Probiotics: live microorganisms that live in the intestine, in the form of lactic acid bacteria Lactospore® Lactobacillus sporogenes
Prebiotics: soluble fibre, such as inulin a natural polysaccharide derived from chicory, that constitute the 'food' of probiotics
Apple cider vinegar: produced by the fermentation of apple juice sugars and it contains various nutrients
Active ingredients per tablet
Probiotics (Lactospore® Lactobacillus sporogenes) 330mg (5×109 C.F.U.*)
Prebiotics (inulin) 1500mg
Apple cider vinegar 100mg
*C.F.U.: Colony-Forming Unit
Take 1 effervescent tablet per day dissolved in a glass of water during or after meal.
Free from
Sugar, gluten, lactose, preservatives, artificial colours.
Suitable for vegans
Content
10 effervescent tablets
Seal carefully after use. Keep in a cool, dry place (up to 25οC), out of sight and reach of children. Keep the product away from heat, light or humidity. Do not exceed the recommended daily dose. Food supplements should not be used as a substitute of a balanced diet. This product is not intended to prevent, treat or cure human disease. Consult your doctor if you are pregnant, nursing, taking medication or facing health problems.
Notification Number of NOM (National Organization for Medicines): 71185/05-11-2008
The notification number of NOM is not a marketing authorization.