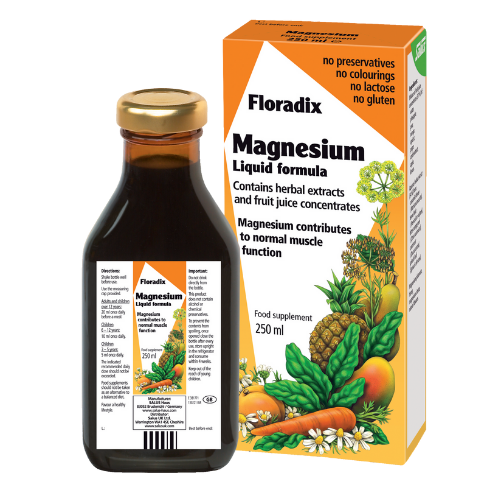 Magnesium in liquid form with fruit juices!
Premium Magnesium!
Magnesium is an important element that contributes to normal functioning of the nervous system, muscle function and psychological function.
Floradix Magnesium Liquid is easy to use and helps covering magnesium's daily requirements. Since magnesium is already dissolved, it is faster absorbed by the gastrointestinal system than tablets.
Floradix Magnesium contains various concentrated fruit juices and selected herbs, offering a pleasant taste.
Floradix Magnesium does not contain alcohol, preservatives or artificial colourings. It is also free from gluten and lactose and suitable for vegetarians.
Magnesium has many properties as it contributes to:
Energy-yielding metabolism*
Normal functioning of the nervous system*
Normal psychological function*
Normal muscle function*
The maintenance of normal bones and teeth*
Reduction of tiredness and fatigue*
The process of cell division*
Electrolyte balance*
Normal protein synthesis*
*Official claims by the European Food Safety Authority (EFSA).
| | | | | | | |
| --- | --- | --- | --- | --- | --- | --- |
| Active Ingredient | per     5 ml | % D.R.I.* per 5 ml | per 10 ml | % D.R.I.* per 10 ml | per 20 ml | %D.R.I.* per 20 ml |
| Magnesium | 62.5 mg | 17 % | 125 mg | 33 % | 250 mg | 67 % |

*D.R.I.: Daily Reference Intake
Adults and children over 12 years old: take 20 ml once a day, before lunch
Children from 6 to 12 years old: take 10 ml once a day, before lunch
Children from 3 to 5 years of age: take 5 ml once a day, before lunch
Free from
Gluten, lactose, preservatives, colourings, alcohol, artificial flavourings
Content
250ml
Diabetics
20ml provide 7.8g of carbohydrates or 0.7 BU (1 BU = Bread Unit equals 12 g of carbohydrates).
Seal carefully after use. Keep in a cool, dry place (up to 25 οC), out of sight and reach of children. Keep the product away from heat, light or humidity. Do not exceed the recommended daily dose.  Food supplements should not be used as a substitute of a balanced diet. This product is not intended to prevent, treat or cure human disease. Consult your doctor if you are pregnant, nursing, taking medication or facing health problems.
Notification Number of NOM (National Organization for Medicines): 56857/15-07-2016
The notification number of NOM is not a marketing authorization.