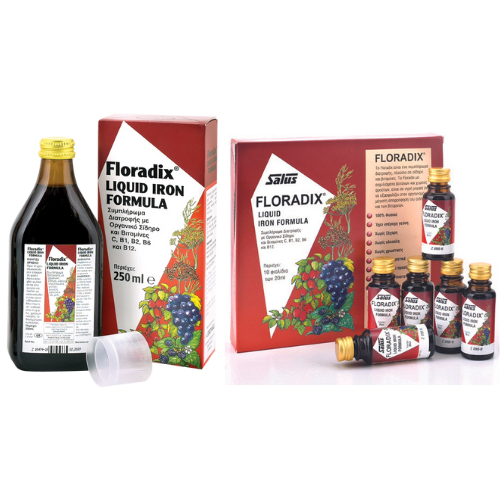 Iron protection and toning for women!
Do you have a difficult and demanding everyday life? That's why you need Floradix. The female tonic, rich in fruit juices, special tonic herbal extracts, iron and vitamins which helps you cope with your everyday obligations. Floradix reduces the sense of fatigue, enhances body's stamina, offers energy every day, stimulates body and mood! Available also in practical single-dose packaging.
Floradix contains valuable micronutrients that contribute to:
Iron: normal oxygen transport in the body, normal formation of red blood cells and haemoglobin and to the reduction of tiredness and fatigue*
Vitamins B6, B12: normal functioning of the nervous system*
Vitamins B1, B2: to normal energy-yielding metabolism*
Vitamin B1: the normal function of the heart*
Vitamin C: the increase of iron absorption and to the reduction of tiredness and fatigue*
*Official claims by the European Food Safety Authority (EFSA).
| | | |
| --- | --- | --- |
| Active Ingredients | per 20ml | %D.R.I.* |
| Vitamin C | 16 mg | 20 % |
| Iron | 15 mg | 107 % |
| Thiamine | 1.6 mg | 145 % |
| Riboflavin | 1.8 mg | 129 % |
| Vitamin Β6 | 0.8 mg | 57 % |
| Vitamin Β12 | 1.2 μg | 48 % |
*D.R.I.: Daily Reference Intake
20ml of Floradix provides with 15mg Fe (II).
Adults and children over 12 years of age:
20 ml per day, preferably 20-30 minutes before meal and without the simultaneous intake of calcium-rich foods. For better utilization of the nutrient content, it is suggested to share the daily amount in 2 doses before meals (e.g. 2 times a day of 10 ml).
Children 6-12 years old:
10 ml, once a day.
Children 3-5 years old:
5ml, once a day.
Iron absorption is delayed when is consumed in combination with calcium, tannins, vitamin E and with drugs such as antacids and tetracyclines.
Free from
Alcohol, lactose, preservatives, colorants and chemical additives
Content
It comes in 2 forms: packaging of 250ml & 10 vials of 20ml.
Diabetics:
20 ml contain 4,6 g of carbohydrates kcal or 0,4 BU (1 BU = Bread Unit equals to 12 g carbohydrates).
Seal carefully after use. Keep in a cool, dry place (up to 25 οC), out of sight and reach of children. Keep the product away from heat, light or humidity. Do not exceed the recommended daily dose.  Food supplements should not be used as a substitute of a balanced diet. This product is not intended to prevent, treat or cure human disease. Consult your doctor if you are pregnant, nursing, taking medication or facing health problems.
Approval Number of NOM (National Organization for Medicines): 24297/F.S.-311/26-11-2001