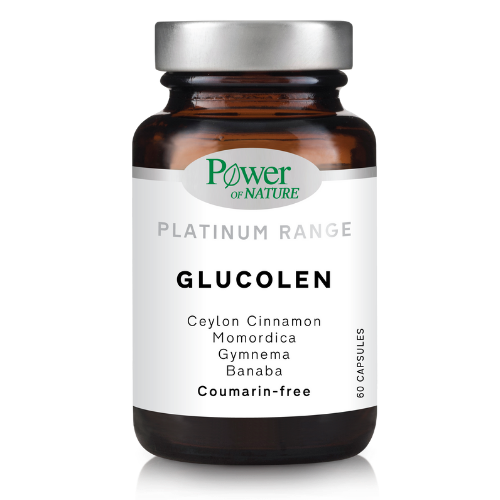 Synergistic formula with Ceylon Cinnamon (Coumarin free) and plant extracts, combined with other micronutrients.
Glucolen is a formula consisting of the following nutrients:
Ceylon Cinnamon Extract: Also known as "true cinnamon", is a popular spice widely used in confectionery.
Momordica extract: Known as bitter melon, it is a source of antioxidant substances, such as alpha carotene, beta carotene, lutein and zeaxanthin.
Gymnema extract: Source of the plytonutrients, known as triterpenes.
Banaba extract: Source of the valuable phytonutrient, corosolic acid.
Chromium: Contributes to the maintenance of normal blood glucose levels *
Zinc: Contributes to normal carbohydrate metabolism *
Magnesium: Contributes to normal energy-yielding metabolism*.
*Official claims by the European Food Safety Authority (EFSA).
Glucolen is a Food Supplement suitable for:
Older adults
People with extra pounds
People with a sedentary lifestyle
People with unhealthy eating patterns
| | | |
| --- | --- | --- |
| Active Ingredients | Per capsule | %R.D.A.* |
| Ceylon Cinnamon extract (coumarin <2ppm) 10:1 | 250 mg | – |
| Magnesium | 187.5 mg | 50 |
| Momordica charantia extract (standarized in 1% charantin) | 25 mg | – |
| Lagerstroemia speciosa leaf extract (standarized in 2% corosolic acid) | 12.5 mg | – |
| Gymnema sylvestre extract | 6.25 mg | – |
| Zinc | 5 mg | 50 |
| Chromium | 20 μg | 50 |
*Recommended Daily Allowance
Adults
Take 2 capsules daily, 1 capsule after meal, as a food supplement or according to your doctor's directions.
Free from
Sugar, Gluten, Lactose, Preservatives
Content
60 capsules
Pregnancy / Breastfeeding
Consult your doctor if you are pregnant, nursing, taking medication or facing health problems.
Seal carefully after use. Keep in a cool, dry place (up to 25 οC), out of sight and reach of children. Keep the product away from heat, light or humidity. Do not exceed the recommended daily dose.  Food supplements should not be used as a substitute of a balanced diet. This product is not intended to prevent, treat or cure human disease. Consult your doctor if you are pregnant, nursing, taking medication or facing health problems.
Notification Number of NOM (National Organization for Medicines): 89015/17-11-2016
The notification number of NOM is not a marketing authorization.