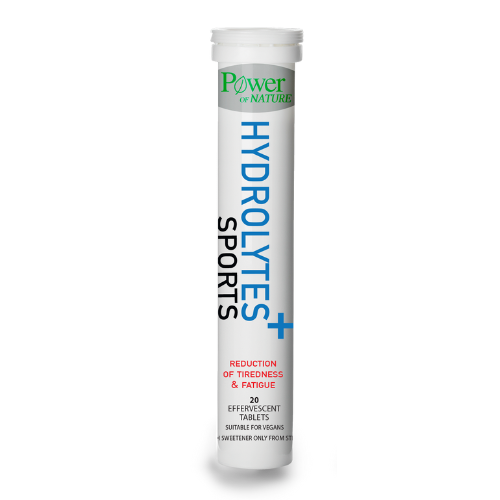 Hydrolytes Sports is a food supplement that combines electrolytes with glucose. Hydrolytes Sports is an enhanced combination of electrolytes with 5 active ingredients (magnesium, iron, zinc, manganese, copper), which are eliminated by sweating during physical exercise. The formula also contains glucose, the body's main fuel. The solution is hypotonic for better absorption of electrolytes.
Magnesium, iron, manganese and copper contribute to normal energy-yielding metabolism*.
Magnesium contributes to the electrolyte balance, to the reduction of tiredness and fatigue and to the normal protein synthesis*
Potassium contributes to the maintenance of normal blood pressure *
Zinc, copper and manganese help protect cells from oxidative stress *.
*Official claims by the European Food Safety Authority (EFSA).
Characteristics:
Hypotonic solution for maximum absorption of electrolytes
Presence of metals, trace elements and glucose
Without sugar or preservatives
| | | |
| --- | --- | --- |
| Active Ingredients | Per tab | %RDI* |
| Glucose | 1000mg | – |
| Sodium | 263mg | – |
| Potassium | 300mg | 15 |
| Chloride | 195mg | 24,3 |
| Magnesium | 80mg | 21,4 |
| Iron | 3mg | 21,4 |
| Zinc | 3mg | 30 |
| Manganese | 0,5mg | 25 |
| Copper | 0,3mg | 30 |
* RDI: Reference Daily Intake
Take 1 effervescent tablet dissolved in a glass of water as a food supplement, before, during and after exercise.
Free from
Sugar, gluten, lactose and preservatives
Content
20 effervescent tablets
Pregnancy / Breastfeeding
Do not take any food supplement during pregnancy and breastfeeding, unless advised by your doctor.
Diabetics
Suitable for diabetics
Seal carefully after use. Keep in a cool, dry place (up to 25 οC), out of sight and reach of children. Keep the product away from heat, light or humidity. Do not exceed the recommended daily dose.  Food supplements should not be used as a substitute of a balanced diet. This product is not intended to prevent, treat or cure human disease. Consult your doctor if you are pregnant, nursing, taking medication or facing health problems.
Notification Number of NOM (National Organization for Medicines): 78323/02-11-2015
The notification number of NOM is not a marketing authorization.