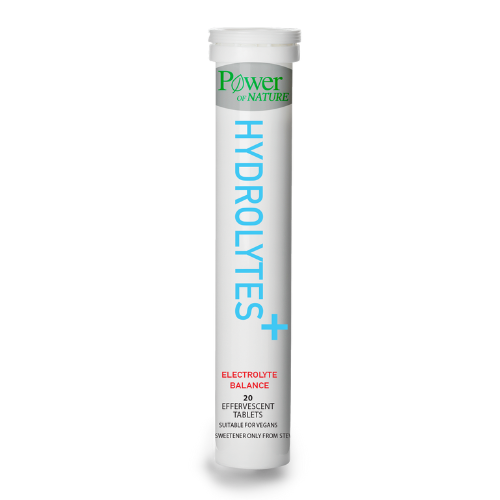 Electrolytes, such as potassium and magnesium, are micronutrients naturally found in our bodies. The balance of these micronutrients is essential for the normal functioning of our cells, muscles and nerves.When this balance is disturbed, dehydration may occur. Imbalance can be caused after diarrhea, excessive sweat, during hot summer days and after strenuous physical exercise. Hydrolytes is a combination of potassium, chlorium, magnesium and sodium.
Potassium
Contributes to normal functioning of the nervous system *
Contributes to normal muscle function *
contributes to the maintenance of normal blood pressure *
*Official claims by the European Food Safety Authority (EFSA).
| | |
| --- | --- |
| Active Ingredients per tablet | Concentration per tablet |
| Sodium | 263 mg |
| Potassium | 200 mg |
| Chloride | 195 mg |
| Magnesium | 50 mg |
Take 1 tabler per day, dissolved in a glass of water as a food supplement
Lemon flavor
Free from
Preservatives, Gluten, Lactose
Content
20 effervescent tablets
Pregnancy / Breastfeeding
Do not take any medicine during pregnancy and breastfeeding, unless advised by your doctor.
Diabetics
Free from sugar
Seal carefully after use. Keep in a cool, dry place (up to 25 οC), out of sight and reach of children.
Keep the product away from heat, light or humidity. Do not exceed the recommended daily dose.
Food supplements should not be used as a substitute of a balanced diet. This product is not intended to prevent, treat or cure human disease. Consult your doctor if you are pregnant, nursing, taking medication or facing health problems.
Notification Number of NOM (National Organization for Medicines): 77182/04-11-2011
The notification number of NOM is not a marketing authorization.