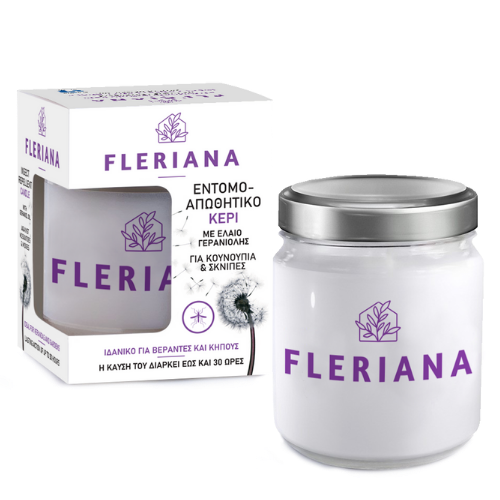 100% pure candle without any additives for a uniform and clean burning result.
The first Mosquito Repellent Candle with approval by the Greek Ministry of Rural Development and Food. Each candle contains the active ingredient geraniol, a natural raw material with mosquito repellent properties. The aroma of the essential oils produced while burning the candle helps to deter mosquitoes and midges.
Active Ingredients
Geraniol, limonene, citronellol, citronellal.
Net weight:
130gr
Before placing the candle on, place it on a flat, stable surface, away from flammable objects. Keep the wick in the center of the candle and the length of it at least 0.5cm so the candle burns to the end without extinguishing it. Do not leave the candle lit without supervision. Keep away from air currents. Replace the lid after each use.
Precautions:
Contains: geraniol, limonene, citronellol, citronellal. May cause an allergic skin reaction.
Keep out of the reach of children.
In case of contact with eyes: Rinse cautiously with water for several minutes. If there are contact lenses, remove them immediately and continue to rinse.