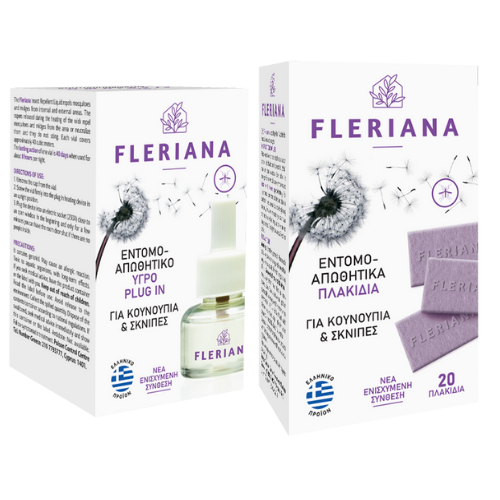 Insect Repellent Tablets & Liquid Plug In
With natural geraniol oil
Natural insect repellent tablets and liquid plug in, suitable for all electrical machines of the market designed for mosquito repellent tablets and liquid plug in.
Freriana tablets
Geraniol
Fleriana Plug In
Geraniol 10% β/β (10g/100g), βοηθητικές ουσίες 89,7% β/β.
Freriana tablets: 20 tablets
Fleriana Plug In: 30ml
Fleriana tablets
Use one insect repellent tablet Fleriana per 40 cubic meters. The product has a lasting action of at least 8 hours (a full night). For larger spaces use more tablets. Place one tablet on the metallic surface of the electrical plug-in machine designed for insect repellent tablets and plug it in the mains (230V) close to an open window.
Fleriana Plug In
Instructions for use and safety:
Remove the cap from the vial.
Screw or snap the vial with the fluid into the socket at the bottom of the electrical device in an upright position so that the vial is integrated with the device.
Place the appliance in an electrical outlet (230V) near an open window.
Do not touch the wick
Περιεχόμενο
Freriana Πλακίδια: 20 πλακίδια
Fleriana Plug In: 30ml