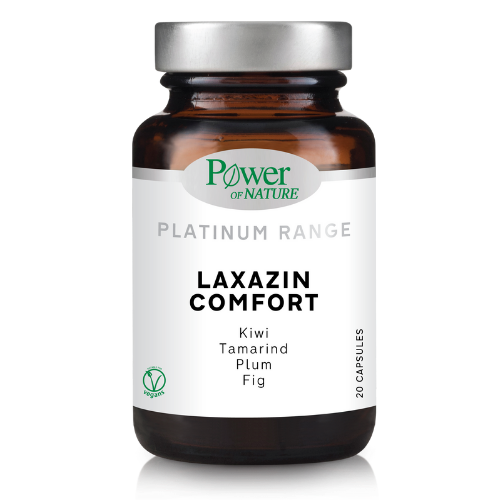 With ACTAZIN® derived from whole kiwi fruit
Food supplement with ACTAZIN® derived from whole kiwi fruit in powder along with tamarind, plum, fig and apple pectin. ACTAZIN®, thanks to the special technique that is produced, it retains the nutrients and bioactive substances of kiwifruit, such as the enzyme actinidin, polyphenols, soluble and insoluble fibre. Consumption of kiwifruit contributes to the maintenance of normal defecation*.
*The beneficial effect is obtained with the consumption of 2 large green kiwifruits (i.e. around 200 g of kiwi flesh) per day.
*Official claims by the European Food Safety Authority (EFSA).
Active ingredients per capsule
ACTAZIN®– kiwi fruit powder 300mg, kiwi fruit powder 300mg, tamarind fruit powder 200mg, plum fruit powder 100mg, apple pectin 100mg, fig fruit powder 50mg.
Directions of use
Take 2 capsules per day, preferably before bedtime, as a food supplement or according to your doctor's directions.
Free from
Sugar, gluten, lactose, preservatives, artificial colours.
Suitable for vegans

Content
20 capsules
Keep in a cool, dry place (up to 25οC), out of sight and reach of young children. Keep the product away from heat, light or humidity. Do not exceed the recommended daily dose. Food supplements should not be used as a substitute for a balanced diet. This product is not intended to prevent, treat or cure human disease. Consult your doctor if you are pregnant, nursing, taking medication or facing health problems.
Notification Number of NOM (National Organization for Medicines): 105894/08-11-2021
The notification number of NOM is not a marketing authorization.