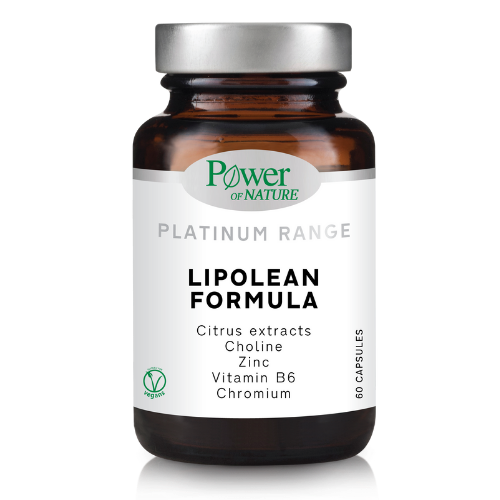 Effective combination of lipotropic factors
If your body is your priority, it's time to face the truth! To reach your goal, you need to put together three pieces of the puzzle:
A balanced diet
Physical activity
Food supplement.
By omitting any of the three, the results are hard to see! This is because only by the combining diet, exercise and food supplements, that you can feel truly beautiful!
Lipolean Formula food supplement is an effective formula enriched with lipotropic factors. It contains Sinetrol® Xpur*, a unique extract of Mediterranean citrus fruits and guarana, as well as the micronutrients choline, chromium, vitamin B6 and zinc.
*The manufacturing process followed for Sinetrol® Xpur confirms the absence of toxic secondary metabolites, such as furanocoumarines and synephrine.
Sinetrol® Xpur:Obtained from the juice, skins and seeds of citrus fruits after going through crushing, cold pressure, extraction, centrifugation, filtration and drying of certain varieties of citrus fruits: grapefruit (Citrus paradise / Macfad), blood orange (Citrus sinensis L) , sweet orange (Citrus sinensis L) and guarana (Paullinia cupana Kunth).
Effective combination of lipotropic factors
3 clinical studies of Sinetrol X Pur
1st clinical study
2nd clinical study
3rd clinical study
Country
France, ParisAmerican Hospital
France, ParisAmerican Hospital
Spain, MurciaResearch center

University of Murcia

Period
12 weeks
12 weeks
16 weeks
Volunteers
20 subjectsBMI: 27-33

Age: 22-55

95 subjectsBMI: 26-29.9

Age: 22-45

77 subjectsBMI: >25

Age: 29-52

Diet
No diet
Normo-caloric diet(Harris and Benedict)
Normo-caloric diet(Harris and Benedict)
Physical activity
<30min/week
<30min/week
No recommandation
With 3 clinical studies on a total of 192 subjects supporting the efficacy of Sinetrol®, this natural concentrate of polyphenols is a safe solution to reduce of the excess of body weight:
Significant weight loss compared to the placebo group: moreover body fat mass decreased while lean mass increased leading to a healthier body composition.
65% of the total fat loss is from the trunk area: the Index of Central Obesity decreased significantly.
Blood measures revealed a higher level of free fatty acids in the bloodstream at the end of the studies, signing a higher lipolysis rate.
Choline: Contributes to normal lipid metabolism*.
Vitamin B6:Contributes to normal energy-yielding metabolism*.
Zinc:Contributes to normal carbohydrate metabolism*.
Zinc & choline:Contribute to normal macronutrient metabolism*.
Chromium:Contributes to the maintenance of normal blood glucose levels*.
*Official claims by the European Food Safety Authority (EFSA).
| | | |
| --- | --- | --- |
| Active ingredients per capsule | Amount per capsule | % D.R.I.* |
| Sinetrol® Xpur – extract from grapefruit, blood orange, sweet orange and guarana (standardized in naringin and neohesperidin) | 450mg | – |
| Choline | 82,5mg | – |
| Zinc | 3mg | 30% |
| Vitamin B6 | 1,1mg | 79% |
| Chromium | 20μg | 50% |
* D.R.I. : Daily Reference Intake
Adults
Take 2 capsules per day, 1 after your breakfast and 1 after your main meal, as a food supplement.
Average natural caffeine content (per capsule): 18mg
Not suitable for persons sensitive to caffeine.
Without
Sugar, gluten, lactose, preservatives, flavorings.
Content
60 capsules
Pregnancy / Breastfeeding
Do not take any food supplements during pregnancy and breastfeeding, unless advised by your doctor
Diabetics
Suitable for diabetics
Suitable for vegans.
Do not exceed the recommended daily dose. Food supplements should not be used as a substitute of a balanced diet. This product is not intended to prevent, treat or cure human disease. Consult your doctor if you are pregnant, nursing, taking medication or facing health problems. Keep in a cool, dry place (up to 25οC) out of sight and reach of children.
Notification Number of NOM (National Organization for Medicines): 97265/18-10-2021
The notification number of NOM is not a marketing authorization.