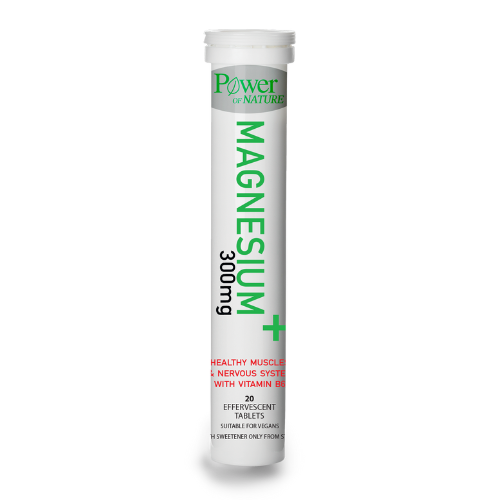 300mg Magnesium combined with Vitamin B6
Magnesium: A precious mineral for your diet!
The body needs minerals such as magnesium. The Recommended Daily Dosage of magnesium is set to 375mg. At the same time its absorption from food is difficult, as magnesium is not very stable in processed foods.
Power Health effervescent Magnesium is a food supplement with a delicious lemon flavor, which offers this precious micronutrient. It contains magnesium and vitamin B6 which contribute to normal energy-yielding metabolism.* Magnesium contributes to the reduction of tiredness and fatigue, to electrolyte balance, to normal muscle function, to normal functioning of the nervous system and to normal psychological function.* Vitamin B6 contributes to normal protein and glycogen metabolism and to the regulation of hormonal activity.*
*Official claims by the European Food Safety Authority (EFSA).
Each tablet provides:
Magnesium 300mg (80% D.R.I*)
Vitamin Β6 6mg (429% D.R.I*)
*D.R.I.: Daily Reference Intake
Adults:
Take 1 tablet every day diluted in a glass of water before meals, preferably at night.
Effervescent tablets with lemon flavor.
Free from
Sugar, gluten, lactose, preservatives, artificial colors
With sweeteners
Content
20 effervescent tablets
Suitable for vegans
Diabetics
Suitable for diabetics
Seal carefully after use. Keep in a cool, dry place (up to 25 οC), out of sight and reach of children. Keep the product away from heat, light or humidity. Do not exceed the recommended daily dose.  Food supplements should not be used as a substitute of a balanced diet. This product is not intended to prevent, treat or cure human disease. Consult your doctor if you are pregnant, nursing, taking medication or facing health problems.
Notification Number of NOM (National Organization for Medicines): 36860/07-06-2006
The notification number of NOM is not a marketing authorization.