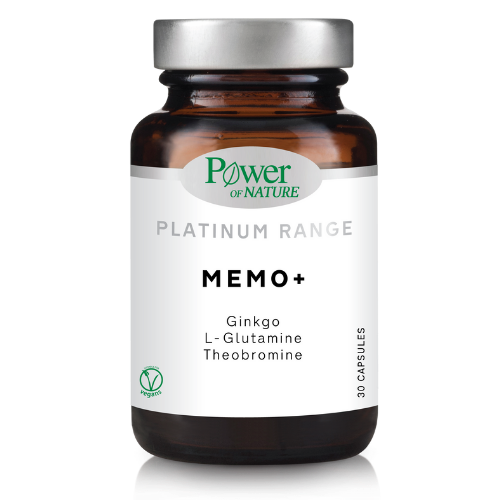 When your mind stops, what can yoy do? Memo+ is a multivitamin formula containing a wide range of vitamins, minerals and trace elements, along with highly protective ingredients such as Ginkgo Biloba, Glutathione, L-Glutamine and Theobromine.
Memo+ is a formula consisting of the following nutrients:
Ginkgo biloba (Ginkgo biloba): Endemic tree of the Far East, which has been used for centuries to support various activities in the human body.
Rosmarinus officinalis: Traditional plant whose leaves are used for a variety of beneficial purposes.
Glutathione: Antioxidant enzyme produced in our cells, it helps protect the cells from the oxidative stress caused by free radicals.
L-Glutamine: Amino acid naturally found in the human body, which participates in a set of functions especially in neuronal synapses.
Theobromine (from cocoa): A substance found in cocoa beans. It demonstrates a stimulating action without affecting the central nervous system.
Magnesium: Contributes to normal functioning of the nervous system*.
Pantothenic acid: Contributes to normal synthesis and metabolism of steroid hormones, vitamin D and some neurotransmitters, as well as to normal mental performance*.
Zinc: Contributes to normal cognitive function*.
Vitamin Β1, Β6, Β12 και Biotin: Contributes to normal psychological function*.
*Official claims by the European Food Safety Authority (EFSA).
Memo+ is a Food Supplement suitable for:
Normal cognitive function
Normal mental performance
People with high cognitive demands
Adults over 50 years
Active Ingredients per capsule:
Magnesium 150 mg (40%)*, Theobromine 100 mg,   Ginkgo Biloba Extract 25 mg, Rosemary Extract 25 mg, L- L-Glutamine 20 mg, Vitamin B5 10 mg (166,7%)*, Zinc 5 mg, L-Glutathione 5 mg, Vitamin B6 2 mg (142,9%)*, Vitamin B1 1,40 mg (127,3%)*, Biotin 65 μg (130%)*, Vitamin B12 2,5 μg (100%)*
R.D.A.: Recommended Daily Allowance
Take 1 capsule before lunch
Free from
Sugar, gluten, lactose and preservatives
Content
30 capsules
Pregnancy / Breastfeeding
Do not take any medicine during pregnancy and lactation, unless advised by your doctor.
Seal carefully after use. Keep in a cool, dry place (up to 25 οC), out of sight and reach of children. Keep the product away from heat, light or humidity. Do not exceed the recommended daily dose.  Food supplements should not be used as a substitute of a balanced diet. This product is not intended to prevent, treat or cure human disease. Consult your doctor if you are pregnant, nursing, taking medication or facing health problems.
Notification Number of NOM (National Organization for Medicines): 46910/28-05-2014
The notification number of NOM is not a marketing authorization.