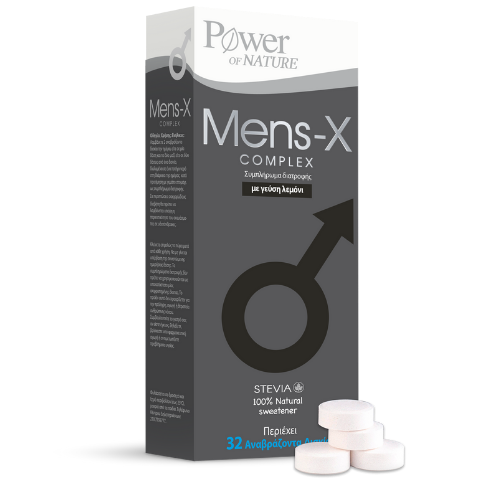 Effervescent tablets with lemon flavor and with sweetener from stevia plant
Food supplement with L-arginine, L-histidine, vitamin C, zinc and proanthocyanidins. Vitamin C contributes to normal collagen formation for the normal function of blood vessels.* Zinc contributes to normal fertility and reproduction and to the maintenance of normal testosterone levels in the blood.*
"Mens X Complex" is a food supplement containing the following nutrients:
L-Arginine: Essential amino acid with an important role in protein synthesis.
L-Histidine: Amino acid that contributing in the protein synthesis.
Proanthocyanidins: Antioxidant ingredients of fruits and vegetables, belonging to the broader family of flavonoids originated from red grapes.
Vitamin C: Contributes to the normal formation of collagen for the normal functioning of blood vessels, to the normal energy-yielding metabolism, but also to normal psychological function. *
Zinc: It contributes to normal fertility and reproduction, but also to the maintenance of the normal testosterone levels in the blood. *
*Official claims by the European Food Safety Authority (EFSA).
Active ingredients per tablet:
L-arginine 2000 mg, vitamin C 45mg (56% D.R.I.*), L-histidine 20mg, zinc 5mg (50% D.R.I.*), proanthocyanidins 0,95mg.
*D.R.I.: Daily Reference Intake
**Contains celery
For allergens see ingredients highlighted in bold
Take 2 effervescent tablets once a day or 1 effervescent tablet twice a day dissolved in a glass of water, preferably after meal, as a food supplement.
Free from
Gluten, lactose, preservatives.
Content
32 effervescent tablets
Diabetics
In case of diabetes, please take into consideration the carbohydrate content.
Each tablet provides 1,5g carbohydrate = 0,125 BU*
*1BU (Bread Unit) corresponds to 12g carbohydrate
Seal carefully after use. Keep in a cool, dry place (up to 25οC), out of sight and reach of children. Keep the product away from heat, light or humidity. Do not exceed the recommended daily dose. Food supplements should not be used as a substitute of a balanced diet. This product is not intended to prevent, treat or cure human disease. Consult your doctor if you are pregnant, nursing, taking medication or facing health problems.
Notification Number of NOM (National Organization for Medicines): 46901/11-07-2008
The notification number of NOM is not a marketing authorization.