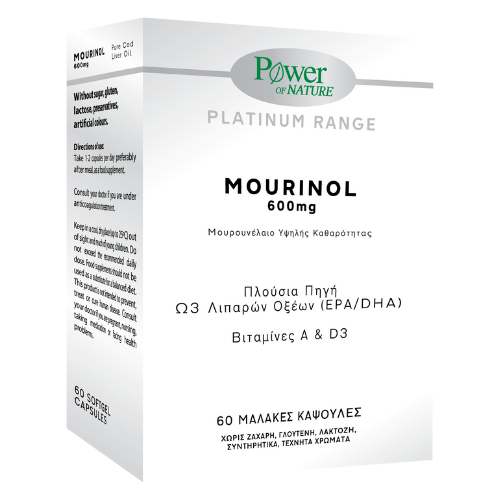 600mg of pure cod liver oil per capsule
In the past, battles have been made between moms and children for its sake because of … the special flavor of Cod Liver oil. It comes from the liver of this white fish, and not from its flesh like other common fish oils. Power Health Cod Liver Oil is a good source of vitamin A and vitamin D3.
Vitamin A * contributes to:
the normal functioning of the immune system
the maintenance normal vision
the normal metabolism of iron
the process of cellular specialization
Vitamin D3 * contributes to:
the normal functioning of the immune system
the normal functioning of the immune system in children
the normal muscle function
the maintenance of normal bones and teeth
the process of cell division
the normal absorption / utilization of calcium and phosphorus
the maintenance normal blood calcium levels
it is essential for the normal growth of children's bones
*Official claims by the European Food Safety Authority (EFSA).
Power Health Salt contains 600mg of pure fetal oil per capsule, high in omega-3 polyunsaturated fatty acids (DHA / EPA).
| | |
| --- | --- |
| Active ingredients | per capsule |
| Pure cod liver oil | 600mg |
| DHA | 60mg |
| EPA | 48mg |
| Vitamin A | 324mcg / 1.080iu |
| Vitamin D3 | 9mcg / 360iu |
Take 1-2 capsules daily as a dietary supplement, preferably after a meal.
Free from
Sugar, preservatives, gluten, lactose and artificial colors.
Content
60 capsules
Pregnancy / Breastfeeding
Do not take any medicine during pregnancy and lactation, unless advised by your doctor.
Keep in a cool, dry place (up to 25 οC), out of sight and reach of children. Keep the product away from heat, light or humidity. Do not exceed the recommended daily dose. Food supplements should not be used as a substitute of a balanced diet. This product is not intended to prevent, treat or cure human disease. Consult your doctor if you are pregnant, nursing, taking medication or facing health problems.
Notification Number of NOM (National Organization for Medicines): 24285/10-03-2016
The notification number of NOM is not a marketing authorization.