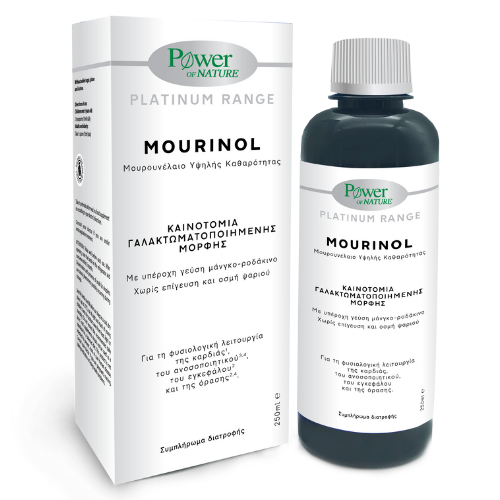 Innovation of emulsified form
Mourinol is a high purity emulsified cod liver oil free from heavy metals and toxins, with a high concentration of Omega 3 fatty acids and vitamins D3 and A. The emulsification technology, which has been produced with, offers better bioavailability and absorption, without any odor or taste of fish oil.
Omega 3 fatty acids attribute ΕPΑ and DHA which contribute to the normal function of the heart1.* DHA contributes to the maintenance of normal brain function and normal vision2.*
3Vitamin D is needed for the normal growth and development of bone in children and it contributes to the normal function of their immune system.*
4Vitamin Α contributes to the normal function of the immune system, to the maintenance of normal vision and skin.*
1 With a daily intake of 250mg ΕΡΑ and DHA
2 With a daily intake of 250mg DHA
*Official claims by the European Food Safety Authority (EFSA).
No fish aftertaste
No fish odour
Great mango-peach flavour
Suitable for the whole family
Ingredients
EmulOil (maltitol, water, aromas, starch sodium octenyl succinate, mono- and diglycerides of fatty acids, xanthan gum, ascorbic acid, citric acid, DL-alpha-tocopheryl acetate, potassium sorbate, ascorbyl palmitate), cod liver oil, water, riboflavin, cholecalciferol.
The product contains ingredients derived from fish.
| | | |
| --- | --- | --- |
|  Active ingredients | Per 10 ml | Per 15 ml |
| Cod liver oil | 2000 mg | 3000 mg |
| DHA (docosahexaenoic acid) | 200 mg | 300 mg |
| EPA (eicosapentaenoic acid) | 160 mg | 240 mg |
| Vitamin A | 600 μg = 2000 IU (75%*) | 900 μg = 3000 IU (112,5%*) |
| Vitamin D3 | 25μg = 1000 IU (500%*) | 37,5μg = 1500 IU (750%*) |
*D.R.I.: Daily Reference Intake
Children over 3 years old
2 teaspoons (10ml) daily
Adults and elderly
3 teaspoons (15ml) daily
Take it preferably after meal as a food supplement or according to your doctor's directions.
Consult your doctor if you are under anticoagulation treatment.
ATTENTION: Shake well before each use. After opening, store the bottle in the refrigerator and consume within 2 months.
Delamination and presence of small fat droplets are natural phenomena possibly occurring during storage.
Free from
Added sugar, gluten and lactose.
Content
250 ml
Do not exceed the recommended daily dose. Food supplements should not be used as a substitute for a balanced diet. This product is not intended to prevent, treat or cure human disease. Consult your doctor if you are pregnant, nursing, taking medication or facing health problems.
Notification Number of NOM (National Organization for Medicines): 72295/05-06-2019
The product is not subject to licensing procedure