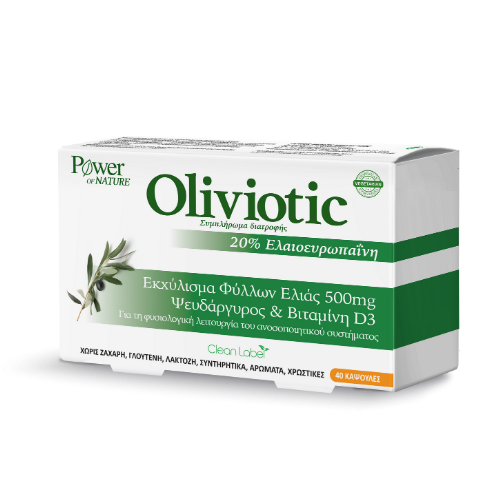 Synergistic food supplement with precious olive leaf extract, vitamin D3 and zinc!
Olive is a gift from nature, and for centuries has been an ally offering its unique benefits. It thrives in the Mediterranean countries and is fully utilized. Olive leaves give oleuropein, a polyphenolic nutrient, as well as a mixture of compounds with the main constituents hydroxytyrosol and elenolic acid. The latter are readily absorbable and bioavailable in the body. [1,2,3,4,5] These compounds mainly give their biological effects to the olive leaf extract. (6)
Oliviotic
Oliviotic is the food supplement of Power Health based on the following natural ingredients:
Scientifically researched olive leaf extract, Olea europaea L. – Olivactive® (standarised in 20% oleuropein – natural source of elenolic acid) [1,2,3]
Vitamin D3 and zinc, which contribute to the normal functioning of the immune system *.
*Official claims by the European Food Safety Authority (EFSA).
Oliviotic will become the ultimate ally for your health!
Walker, M. Kensington Publishing Corp. 1997.
Nash, P. et al. Dynamic Chiropractic. 1997; 15.
Markin, D. et al. Mycoses 2003; 46.
Miro- Casa, E., M.I. Covad, et al. 2003
Visser et al. 2002
Cicerale S., Lucas L. et al. 2010
Manousakis, Tzotze. 2015
Active ingredients:
500mg Olive leaf extract – Olivactive® (Olea europaea L.) / thereof 100mg Oleuropein, 5mg zinc (50% R.D.I.*), 1,75μg (70iu) vitamin D3 (35% R.D.I.*).
*R.D.I.: Recommended Daily Intake
Ingredients: Olive leaf extract – Olivactive® (Olea europaea L.), capsule shell, zinc citrate, magnesium stearate, cholecalciferol (vitamin D3).
Take 1 capsule per day  to support your immune system and 2-3 capsules per day for immediate results.
Free from
sugar, gluten, lactose, preservatives and flavorings
Keep in a cool, dry place (up to 25 οC), out of sight and reach of children. Keep the product away from heat, light or humidity. Do not exceed the recommended daily dose.  Food supplements should not be used as a substitute of a balanced diet. This product is not intended to prevent, treat or cure human disease. Consult your doctor if you are pregnant, nursing, taking medication or facing health problems.
Notification Number of NOM (National Organization for Medicines): 44150/26-06-2015
The notification number of NOM is not a marketing authorization.