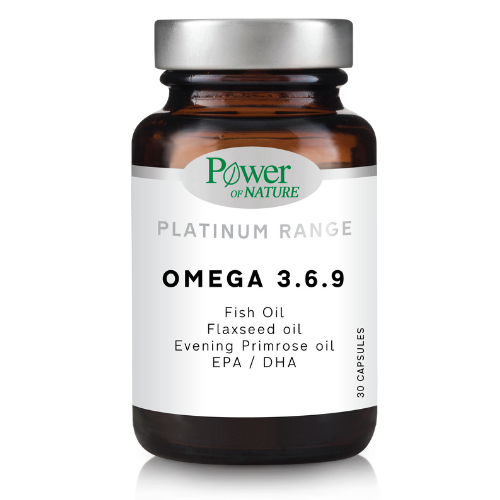 Platinum formula… με έλαια υψηλής απόσταξης & ψυχρής συμπίεσης.
A combination of fish oil, flaxseed oil and evening primrose oil with high concentration in Omega 3.6. 9 fatty acids.
Omega is a group of essential unsaturated fatty acids which cannot be synthesized by our body. Thus it is considered of paramount importance to consume them daily from our diet as they play a key role in all cell functions.
In Omega 3.6.9 of the Classics Platinum Range you will find a combination of fish oil, flaxseed oil and evening primrose oil in the appropriate ratio.
Fish oil: Obtained from fatty fish, such as mackerel and anchovies. It is a good source of valuable polyunsaturated omega 3 fatty acids. The latter include DHA and EPA, which have been extensively studied for their numerous benefits.
Flaxseed oil: A good source of omega 6 and omega-9 polyunsaturated fatty acids, the most important of which is linoleic acid. Foods rich in omega 6 fat are some vegetable oils (corn, sunflower, soy), nuts, whole grains and chicken. Their beneficial action is supported by extensive scientific research.
Evening Primrose Oil: Source of the omega-6 polyunsaturated fatty Gamma-Linolenic Acid (GLA). In balance with other omega-polyunsaturated fats, it supports a large number of functions in the human body.
Omega 3.6.9 of the Classics Platinum Range contains oils obtained though molecular distillation the cold compression methods, to provide a fine mixture of total omega 3,6 and 9 unsaturated fatty acids.
Omega 3.6.9 is a Food Supplement suitable for:
Diets low in fat
Young and middle aged women
Students
People with high mental/ cognitive demands
Active Ingredients
Per capsule
Fish Oil
500mg
Flaxseed oil
400mg
Evening Primrose oil
300mg
of which:
– Total Omega 3
350mg
– Total Omega 6
258mg
– Total Omega 9
76mg
– LA – linoleic acid (omega 6)
231mg
– ALA – a-linolenic acid (omega 3)
200mg
– EPA – eicosapentaenoic acid (omega 3)
90mg
–  OA – oleic acid (omega 9)
76mg
– DHA – docosahexaenoic acid acid (omega 3)
60mg
–  GLA – γ-linolenic acid (omega 6)
27mg
Take 1 capsule preferably after meal.
Free from
Gluten, lactose, preservatives
Content
30 capsules
Pregnancy / Breastfeeding
Consult your doctor if you are pregnant, breastfeeding, you are under medication or experiencing health problems.
Seal carefully after use. Keep in a cool, dry place (up to 25 οC), out of sight and reach of children. Keep the product away from heat, light or humidity. Do not exceed the recommended daily dose.  Food supplements should not be used as a substitute of a balanced diet. This product is not intended to prevent, treat or cure human disease. Consult your doctor if you are pregnant, nursing, taking medication or facing health problems.
Notification Number of NOM (National Organization for Medicines): 88583/18-11-2013
The notification number of NOM is not a marketing authorization.