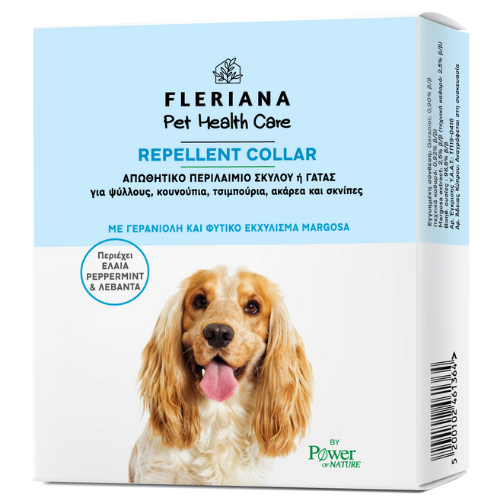 Pet Health Care Repellent Collar
With a repellent action that lasts for 4 months after opening of the package
A specially designed pet collar for cats and dogs that contains the highly repellent substances Margosa extract (Azadirachta indica) & Geraniol. It is also enriched with peppermint & lavender oils. The substances work together effectively in order to protect the pet throughout the year, repelling fleas, mosquitoes, ticks, mites and gnats.
It is not affected by water.
Ingredients
geraniol, margosa extract
Content: 1 repellent collar
How to use
Remove the collar from the package and cut the connecting joints. The collar is 68cm long. Unwrap the collar and adjust it according to the thickness of the pet's neck in the corresponding notch so that it is not tight.
Keep in a cool and dry place out of sight and reach of young children. Keep the product away from heat, light or humidity.
Special precautions
Do not use in puppies under 16 weeks.
Do not use in order to tie the dog.
Wash your hands carefully after the of the collar application to the animal.
Approved by the Ministry of Rural Development and Food (Approval No.: ΤΠ-19-0416)