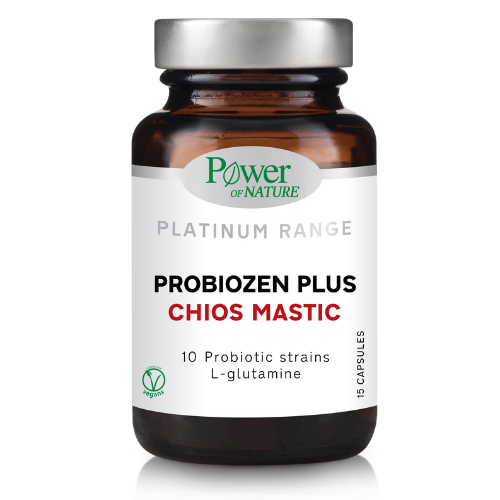 Probiozen plus Chios Mastic
10 probiotic strains – 2 billion per capsule along with Chios mastic
Food supplement with Chios mastic, probiotics, glutamine and zinc.
Chios mastic is the resin obtained from the mastic tree, an evergreen shrub uniquely cultivated in southern Chios, Greece. It is a natural aromatic resin, known from ancient times for its beneficial properties.
L-glutamine is the amino acid with the highest concentration in the human body, participating in many metabolic processes. It is mostly produced in the muscles and distributed through the bloodstream to the organs necessary, such as the intestine.
Zinc contributes to normal macronutrient metabolism, such as of carbohydrate and fatty acids, as well as to the protection of cells from oxidative stress*.
*Official claims by the European Food Safety Authority (EFSA).
Active ingredients per capsule:
Chios mastic powder 250mg (125mg Chios mastic gum), L-glutamine 50mg, probiotic strains mix 40mg (2×109 C.F.U.*), zinc-L-carnosine 23mg, of which zinc 5mg (50% D.R.I.**).
*C.F.U.: Colony Forming Unit
**D.R.I.: Daily Reference Intake
Adults
Everyday take 1 capsule, preferably after main meal, as a food supplement or take as directed by your doctor.
Free from
Gluten, lactose, preservatives, flavourings, artificial colours
Suitable for vegans
Content
15 capsules
Keep in a cool, dry place (up to 25οC), out of sight and reach of young children. Do not exceed the recommended daily dose. Food supplements should not be used as a substitute of a balanced diet. This product is not intended to prevent, treat or cure human disease. Consult your doctor if you are pregnant, nursing, taking medication or facing health problems.
Notification Number of NOM (National Organization for Medicines): 44547/16-04-2020
The notification number of NOM is not a marketing authorization.