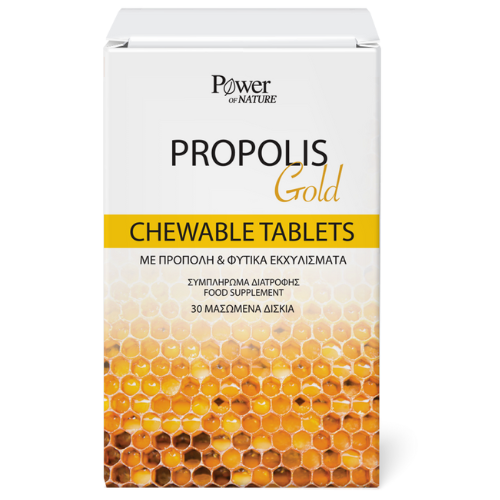 Propolis Gold Chewable Tablets
Propolfenol® plus – a synergistic herbal complex titrated to 55% polyphenols
Food supplement
Chewable tablets with propolis and plant extracts
It contains the patented ingredient Propolfenol® plus, a synergistic herbal complex of propolis, green tea and grape seed extracts, titrated to 55% polyphenols, compounds known for their antioxidant activity. The unique and exclusive extraction technique, through which it is produced, gives high stability and bioavailability. The composition is enhanced with plant extracts of thyme, eucalyptus and aloe vera, known for their beneficial properties, as well as with myrrh, honey and hyaluronic acid.
Active ingredients
Attributed amount per 2 tablets
Attributed amount

per 4 tablets

Honey
100mg
200mg
Myrrh extract
37,5mg
75mg
Propolfenol® plus (extract from propolis, green tea, grape)

thereof polyphenols

32,5mg

17,85mg

65mg

35,7mg

Sodium hyaluronate

Hyaluronic acid

25,75mg

25mg

51,5mg

50mg

Aloe extract
25mg
50mg
Eucalyptus extract
25mg
50mg
Thyme extract
25mg
50mg
Eucalyptus essential oil
6mg
12mg
Adults
Take 2-4 chewable tablets per day, allowing them to dissolve slowly in the mouth, as a food supplement or according to your doctor's directions.
Free from
Gluten, lactose, preservatives, artificial colours.
With sweeteners
Suitable for vegetarians
Content
30 chewable tablets 
Keep in a cool, dry place (up to 25οC) out of sight and reach of young children. Do not exceed the recommended daily dose. Food supplements should not be used as a substitute for a balanced diet. This product is not intended to prevent, treat or cure human disease. Consult your doctor if you are pregnant, nursing, taking medication or facing health problems. Avoid in case of hypersensitivity or allergy to one or more ingredients of the product.
Notification Number of NOM (National Organization for Medicines): 74135/06-07-2023
The product is not subject to licensing procedure