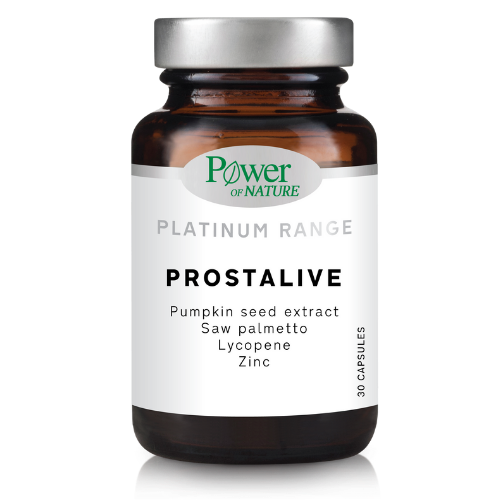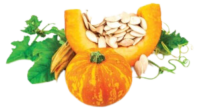 Platinum formula… συνεργιστικής δράσης, με κολοκυθόσπορο!
Synergistic formula with Pumpkin seeds, Sereona, Nettle root, Pomegranate, Lycopene, Selenium, Vitamin E and Zinc.
Who said that men do not have their own … protector? Nature has also taken care of it by offering generous natural ingredients through our food. Prostalive is a rich composition of a combination of traditional plants, as well as trace minerals.
Prostalive is a formula consisting of the following nutrients:
Pumpkin seeds (Curcubita pepo L.): A plant with traditional effect, rich in sitosterols, carotenoids and other micronutrients that play a key role in the body.
Serenoa (Saw Palmetto- Serenoa repens L.): A tree that looks like palm tree, also known as a serenoa. It is used since 1900 by the native Americans. It is rich in phytonutrients, such as β-sitosterols.
Nettle root (Urtica dioica L.): A traditional plant that offers versatile protection to humans.
Pomegranate (Punica granatum L.): Fruit rich in antioxidant ingredients such as ellagic acid, tannins and anthocyanins.
Lycopene: Phytonutrient ingredient of red fruit and tomato, with strong action against oxidative stress.
Selenium and Vitamin E: contribute to normal spermatogenesis and to the protection of cells from oxidative stress.*
Zinc: Contributes to normal fertility and reproduction and to the maintenance of normal testosterone levels in the blood*
*Official claims by the European Food Safety Authority (EFSA).
Its Platinum Characteristics:
Synergistic, holistic effect of 8 different ingredients
Ingredients with official health claims from EFSA, as well as scientifically studied ingredients
| | | |
| --- | --- | --- |
| Active Ingredients | Per tablet | %RDI* |
| Pumpkin seed extract 4:1 | 200mg | – |
| Saw palmetto fruit extract | 40mg | – |
| Nettle root extract | 50mg | – |
| Lycopene extract | 5mg | – |
| Pomegranate fruit extract | 100mg | – |
| Zinc | 10mg | 100 |
| Selenium | 55mcg | 100 |
| Vitamin Ε | 6mg | 50 |
*RDI: Recommended Daily Intake
Take 1 capsule daily, preferably after a meal as a food supplement according with the instructions of your doctor.
Free from
Gluten, lactose, preservatives, fragrances.
Content
30 capsules
Diabetics
Suitable for diabetics.
Seal carefully after use. Keep in a cool, dry place (up to 25 οC), out of sight and reach of children. Keep the product away from heat, light or humidity. Do not exceed the recommended daily dose.  Food supplements should not be used as a substitute of a balanced diet. This product is not intended to prevent, treat or cure human disease. Consult your doctor if you are pregnant, nursing, taking medication or facing health problems.
Notification Number of NOM (National Organization for Medicines): 77498/30-10-2015
The notification number of NOM is not a marketing authorization.