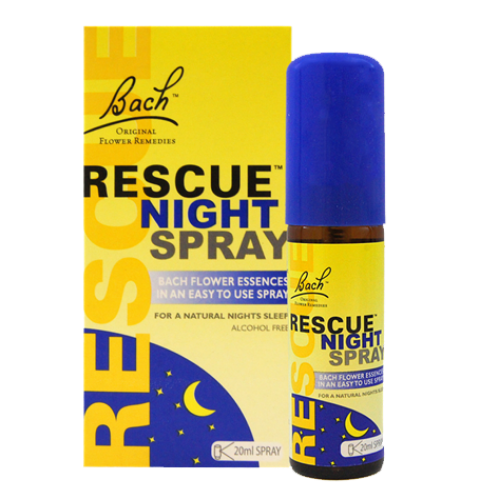 With original Bach™ flower essences
RESCUE NIGHT® flower essences in a glycerine solution spray format
Bach™ RESCUE® combines 5 original flower essences discovered by Dr. Edward Bach in the 1930's with the White Chestnut essence.
Ingredients
Glycerine, water, flower essences Helianthemum nummularium (Rock Rose), Clematis vitalba (Clematis), Impatiens glandulifera (Impatiens), Prunus cerasifera (Cherry Plum), Ornithogalum umbellatum (Star of Bethlehem) (RESCUE®) and Aesculus hippocastanum (White Chestnut).
Activate the spray pump before use. Bring the spray nozzle up to your mouth and apply two sprays on your tongue before bedtime. Do not spray into your throat or eyes.
Alcohol free
Suitable for vegans
Content
20ml spray
Keep in a cool, dry place (up to 25οC), out of sight and reach of young children. Do not exceed the recommended daily dose.  Food supplements should not be used as a substitute for a balanced diet. This product is not intended to prevent, treat or cure human disease. Consult your doctor if you are pregnant, nursing, taking medication or facing health problems.
Notification Number of NOM (National Organization for Medicines): 106992/10-11-2021
The notification number of NOM is not a marketing authorization.