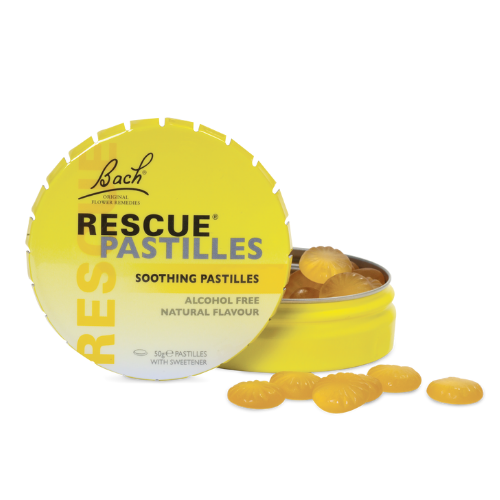 With Rescue® flower essences
Pastilles with Rescue® flower essences and natural orange & elderflower flavour.
Sugar-free – With sweetener.
Ingredients:
Bulking agents (sorbitol, maltitol, isomalt), gelling agent (gum arabic), natural flavouring (elderflower, orange), sweetener (xylitol), glazing agents (palm kernel oil, beeswax), flower essences (Helianthemum nummularium (Rock Rose), Clematis vitalba (Clematis), Impatiens glandulifera (Impatiens), Prunus cerasifera (Cherry Plum), Ornithogalum umbellatum (Star of Bethlehem) (RESCUE®)).
Excessive consumption may produce a laxative effect.
Free from
Sugar, alcohol, gluten, lactose, colours, preservatives.
Content
50g (35 pastilles approximately)
Keep in a cool, dry place (up to 25οC), out of sight and reach of young children.