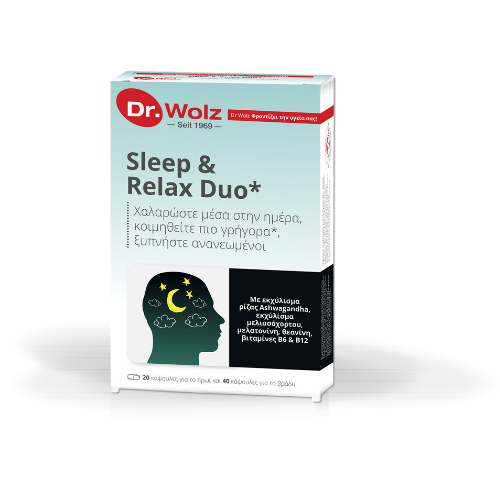 For a relaxed day, for getting to sleep faster, wake up rejuvenated
Sleep Relax Duo contains a special day / night formulation, the "Duo Formula", as a new holistic approach to sleep disorders. Time pressure, anxiety and stress during the day can put a strain on the nervous system and body. The body reacts with an increased release of adrenaline and cortisol. Due to the increased adrenaline and cortisol levels, the body does not get the necessary rest phase. The Sleep Relax Duo evening capsule contains Ashwagandha root extract, lemon balm extract and melatonin, which helps to the reduction of time taken to fall asleep.1 The Sleep Relax Duo morning capsule contains sleep berry root extract, theanine-containing green tea extract and vitamins B6 and B12, which contribute to normal function of the nervous system and to normal psychological function.2
Melatonin contributes to the reduction of time taken to fall asleep. The beneficial effect is obtained by consuming 1 mg of melatonin close to bedtime.
Vitamin B6 and vitamin Β12 contribute to normal functioning of the nervous system, to normal psychological function and to the reduction of tiredness and fatigue.
| | | |
| --- | --- | --- |
| Active Ingredients   | Per Daily Dose | %D.R.I. + |
| Vitamin B6 | 0,7 mg | 50 % |
| Vitamin B12 | 1,25 μg | 50 % |
| Ashwagandha KSM-66# root extract | 500 mg | |
| Green Tea extract | 200 mg | |
| Thereof theanine | 60 mg | |
| Lemon balm extract | 300 mg | |
| Melatonin | 1 mg | |
+D.R.I.: Daily Reference Intake
Ingredients of morning capsule
Ashwagandha (Withania somnifera)# root extract 200mg, green tea extract (thereof theanine), vitamin Β12, vitamin Β6. Capsule shell: hydroxypropyl methylcellulose.
Ingredients of evening capsule
Ashwagandha (Withania somnifera)# root extract 150mg, lemon balm extract (Melissa officinalis), melatonin. Capsule shell: hydroxypropyl methylcellulose, carrot concentrate.
Without gluten, gelatin and lactose
CONTENT: 60 capsules (20 morning capsules + 40 evening capsules)
Recommended dosage
The Sleep Relax Duo* combination pack contains 2 different blisters with different capsules. In order to obtain the combined effect, each morning take one morning capsule and each evening take two evening capsules (1-2 hours before going to bed) whole with liquid after eating.
Keep in a cool, dry place (up to 25οC), out of sight and reach of young children. Keep the product away from heat, light or humidity. Do not exceed the recommended daily dose. Food supplements should not be used as a substitute for a balanced diet. This product is not intended to prevent, treat or cure human disease. Not administer the product simultaneously with antidepressants, antipsychotics and alcohol. Consult your doctor if you are pregnant, nursing, taking medication or facing health problems.
Notification Number of NOM (National Organization for Medicines): 106576/09-11-2021
The notification number of NOM is not a marketing authorization.