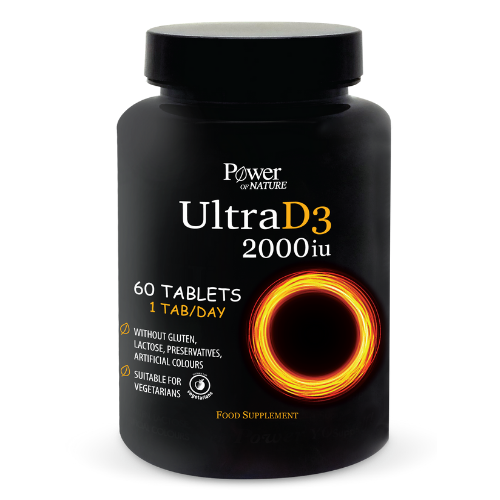 Cholecalciferol – the most bioavailable form of vitamin D
Food supplement
Vitamin D contributes to normal absorption/utilisation of calcium and phosphorus, normal blood calcium levels and to the normal function of the immune system. In addition, it contributes to the maintenance of normal muscle function, normal bones and teeth*.
*Official claims by the European Food Safety Authority (EFSA).
Active ingredients per tablet
Vitamin D3 50μg (2.000iu) (1000%*)
*D.R.I.: Daily Reference Intake
Take 1 tablet per day, preferably along with your main meal, as a food supplement, or according tο your doctor's directions.
Free from
Gluten, lactose, preservatives, artificial colours.
Suitable for vegetarians

Content
60 tablets
Keep in a cool, dry place (up to 25οC), out of sight and reach of young children. Do not exceed the recommended daily dose.  Food supplements should not be used as a substitute for a balanced diet. This product is not intended to prevent, treat or cure human disease. Consult your doctor if you are pregnant, nursing, taking medication or facing health problems.
Notification Number of NOM (National Organization for Medicines): 59316/01-06-2022
The product is not subject to licensing procedure