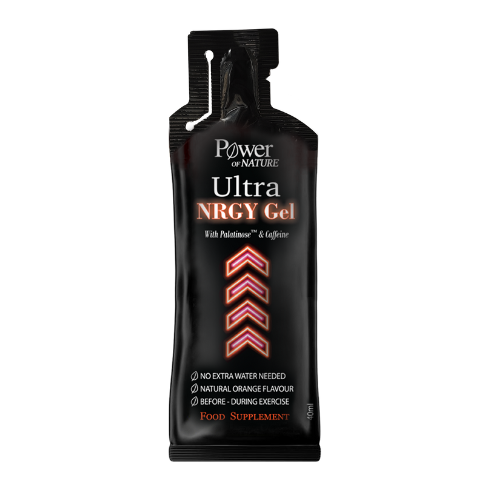 Gel with 3 sources of carbohydrate and caffeine
Food supplement in gel form with carbohydrates and caffeine. With natural orange flavour.
Combination of fast and slow release carbohydrates: glucose, maltodextrin, isomaltulose* (Palatinose™) that provide instant and long-lasting energy with caffeine.
*Isomaltulose is a source of glucose and fructose.
Nutrition declaration
 
Per 100ml
Per 40ml
Energy
837 kJ /200 kcal
335 kJ /80 kcal
Fat
0 g
0 g
of which saturates
0 g
0 g
Carbohydratesof which sugars
50 g10,8 g
20 g4,3 g
Fibre
0 g
0 g
Protein
0 g
0 g
Salt
0 g
0 g
High caffeine content: 34mg/40ml
Take 1 – 3 gels per day directly in mouth, without extra water intake, prior to or during exercise, depending on your needs.
Free from
Gluten, lactose, soy, artificial colours.
Suitable for vegans
Content
40ml
Keep in a cool, dry place (up to 25οC), out of sight and reach of young children. Do not exceed the recommended daily dose.  Food supplements should not be used as a substitute for a balanced diet. This product is not intended to prevent, treat or cure human disease. Consult your doctor if you are taking medication or facing health problems. Not recommended for children, pregnant and nursing women.
Notification Number of NOM (National Organization for Medicines): 42007/19-04-2022
The product is not subject to licensing procedure