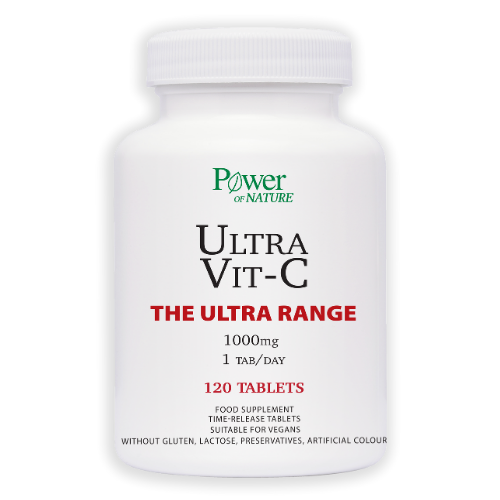 Food supplement
ULTRAVIT-C contains vitamin C which contributes to the normal function of the immune system and to normal energy-yielding metabolism. In combination with bioflavonoids, a group of polyphenolic compounds of plant origin known for their antioxidant action, as well as rose hips fruit which is a source of various antioxidant micronutrients.*
ULTRAVIT-C time-release tablets are produced by a special process that retains vitamin C in micropellets allowing it to be released slowly. This means that its absorption is a continuous process as the gradual release takes place 4 up to 6 hours. Thus, the beneficial effects of vitamin C are available to human body over a sustained period.
*Official claims by the European Food Safety Authority (EFSA).
Active ingredients per tablet:
Vitamin C 1000mg (1250%*), citrus bioflavonoids 25mg, rose hips fruit powder 25mg.
*D.R.I.: Daily Reference Intake
Adults:
Everyday take 1 tablet before meal, as a food supplement or take as directed by your doctor.
Free from
Gluten, lactose, preservatives, artificial colours.
Suitable for vegans
Content
120 tablets
Keep in a cool, dry place (up to 25οC), out of sight and reach of young children. Do not exceed the recommended daily dose.  Food supplements should not be used as a substitute for a balanced diet. This product is not intended to prevent, treat or cure human disease. Consult your doctor if you are pregnant, nursing, taking medication or facing health problems.
Notification Number of NOM (National Organization for Medicines): 107732/12-10-2022
The product is not subject to licensing procedure