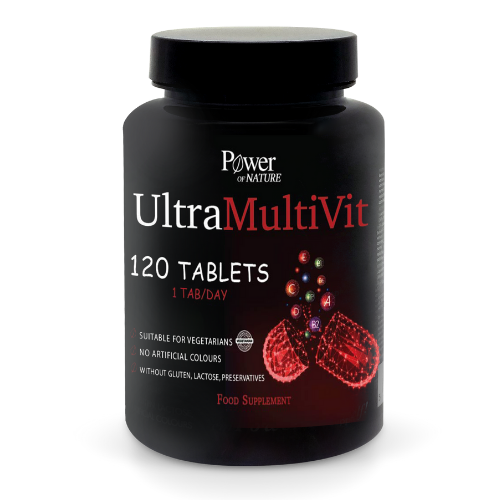 ULTRAMULTIVIT contains a set of valuable nutrients for the daily body needs. It combines vitamins, minerals and trace elements with brewer's yeast, a nutritional source of various micronutrients and rutin, a flavonoid found in plant-origin foods.
Active ingredients per tablet:
Vitamin C 50mg (62,5%*), rutin 20mg, brewer's yeast 20mg, niacin 18mg (112,5%*), iron 12mg (85,7%*), zinc 3mg (30%*), vitamin E 2mg (16,7%*), vitamin B2 1,6mg (114,3%*), vitamin B6 1,2mg (85,7%*), vitamin B1 1,2mg (109%*), vitamin A 750μg (93,8%*), folic acid 300μg (150%*), iodine 140μg (93,3%*), biotin 100μg (200%*), vitamin D3 2,5μg (50%*), vitamin Β12 2μg (80%*).
*D.R.I.: Daily Reference Intake
Adults
Everyday take 1 tablet before meal, as a food supplement or take as directed by your doctor.
Free from
Gluten, lactose, preservatives, artificial colours
Suitable for vegetarians
Content
120 tablets
Keep in a cool, dry place (up to 25οC), out of sight and reach of young children. Do not exceed the recommended daily dose. Food supplements should not be used as a substitute of a balanced diet. This product is not intended to prevent, treat or cure human disease. Consult your doctor if you are pregnant, nursing, taking medication or facing health problems.
Notification Number of NOM (National Organization for Medicines): 44552/16-04-2020
The notification number of NOM is not a marketing authorization.