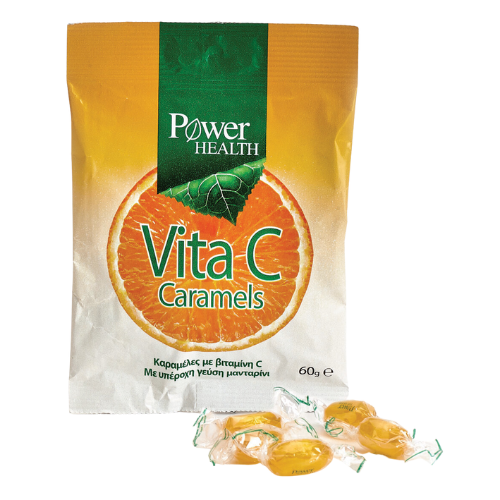 Candies with vitamin C and wonderful tangerine flavor
Caramel with vitamin C,  for all day long! Vita C caramels from Power Health, have a delicious   tangerine flavor. They contain vitamin C that contributes to:
Normal function of the immune system*.
The protection of cells from oxidative stress*.
Normal function of the immune system during and after intense physical exercise*.
Normal collagen formation for the normal function of blood vessels bones, cartilage, gums, skin, teeth*.
Normal energy-yielding metabolism*.
The reduction of tiredness and fatigue*.
Normal functioning of the nervous system*.
Increased iron absorption*.
 *Official claims by the European Food Safety Authority (EFSA).
1 piece provides 25% of RDA * Vitamin C (20mg)
* RDA Recommended Daily Allowance
The product may contain traces of nuts, peanut, soybean, sesame, gluten or milk.
Content
60g
Pregnancy / Breastfeeding
Consult your doctor if you are pregnant, nursing, taking medication or facing health problems.
Diabetes
Suitable for diabetics