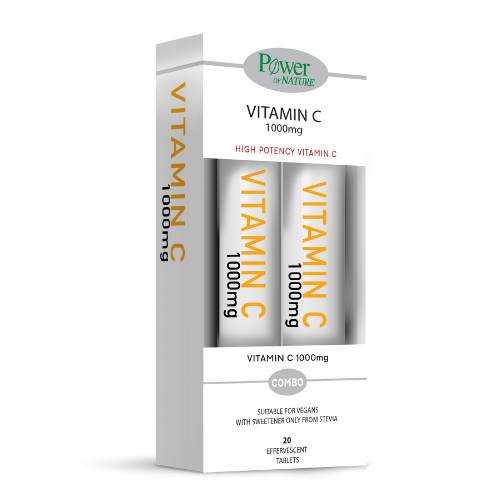 With 100% natural sweetener from stevia plant!
The 'all time classic' vitamin with sweetener from Stevia plant only!
The most beloved vitamin of all times! Vitamin C is one of the most popular food supplements worldwide. Vitamin C 1000mg from Power Health is now available in 2 great flavors orange and apple, with high quality and effectiveness.
Vitamin C contributes:
Normal function of the immune system*
The protection of cells from oxidative stress*
Normal function of the immune system during and after intense physical exercise*
Normal collagen formation for the normal function of blood vessels, bones, cartilage, gums, skin, teeth*
Normal energy-yielding metabolism*
The reduction of tiredness and fatigue*
Normal functioning of the nervous system*
Increased iron absorption*
*Official claims by the European Food Safety Authority (EFSA).
A quick note on stevia
Stevia (Stevia rebaudiana) is a plant of the sunflower family (Asteraceae). From the leaves of the plant steviol glycosides are obtained, which are 200 to 300 sweeter than sugar. Stevia's sweetness makes it a great sugar substitute of natural origin. Stevia leaves may be sweet enough, however they do not provide any calories as their glycosides cannot be absorbed by the human body. Nowadays, health and food safety organizations (EFSA, FDA), recognize stevia as safe for consumption.
EFSA Panel on Food Additives and Nutrient Sources added to Food (ANS). Scientific Opinion on the safety of steviol glycosides for the proposed uses as a food additive. EFSA Journal 2010;8(4):1537.
Active ingredients per tablet
1000mg of Vitamin C (1250% D.R.I.*)
*D.R.I.: Daily Reference Intake
Adults
Take 1 tablet per day before meal, as a food supplement or according to your doctor's directions.
Content
20 effervescent tablets
Free from
Sugar, gluten, lactose, preservatives and artificial colors
Diabetics
Suitable for diabetics
Seal carefully after use. Keep in a cool, dry place (up to 25οC), out of sight and reach of children. Keep the product away from heat, light or humidity. Do not exceed the recommended daily dose.  Food supplements should not be used as a substitute of a balanced diet. This product is not intended to prevent, treat or cure human disease. Consult your doctor if you are pregnant, nursing, taking medication or facing health problems.
Notification Number of NOM (National Organization for Medicines): 51323/02-06-2017
The notification number of NOM is not a marketing authorization
Promo package: With Vitamin C500mg, 20s (free)