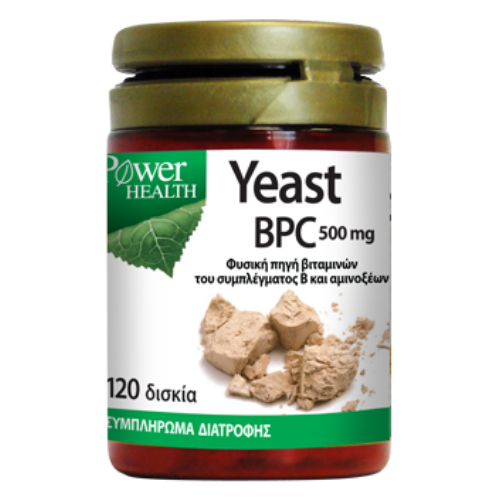 With B-complex vitamins and amino acids.
Power Health Yeast BPC offers you yeast in capsules. Yeast is a rich, natural source of vitamins of B-complex, minerals, trace elements, amino acids.
Power Health Yeast BPC contains 500 mg yeast per tablet and it is one of the most concentrated yeasts in the market.
Active ingredients
2 tablets provide:
Vitamin B1 0.135 mg, vitamin B2 0.065 mg, niacin 0.4 mg, folic acid 20 μg, biotin 6 μg, inositol 4.6 mg, choline 5 mg, alanine 30 mg, aminobutyric acid 1 mg, arginine 21.5 mg, aspartic acid 42 mg, cysteine 1 mg, glycine 20.5mg, glutamic acid 56.5mg, histidine 11mg, isoleucine 19.5 mg, leucine 31.5mg, lysine 32.5mg, methionine 6mg, phenylalanine 19.9 mg, proline 19.5 mg, serine 21.5 mg, threonine 20.5 mg, tryptophan 7 mg, tyrosine 12 mg, valine 25.5 mg.
Adults:
Take 2-10 tablets a day.
Free from
Sugar, gluten, lactose, preservatives

Content
120 tablets
Seal carefully after use. Keep in a cool, dry place (up to 25 οC), out of sight and reach of children. Keep the product away from heat, light or humidity. Do not exceed the recommended daily dose.  Food supplements should not be used as a substitute of a balanced diet. This product is not intended to prevent, treat or cure human disease. Consult your doctor if you are pregnant, nursing, taking medication or facing health problems.