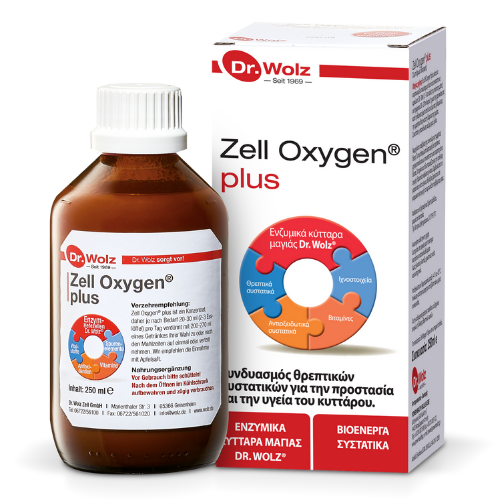 Zell Oxygen plus® composition is complemented with micronutrients
Zell Oxygen plus® is not just a simple mix of nutrients, but a food supplement consisting of biologically active enzyme yeast cells Dr. Wolz®. Enzyme yeast cells of Dr. Wolz® have a similar structure and composition with human cells and are rich in vital enzymes, amino acids, vitamins, minerals, trace elements and other nutrients.
Vitamins Β1, Β2, Β6, Β12, niacin, pantothenic acid, biotin: contribute to normal energy-yielding metabolism and to the reduction of tiredness and fatigue*
Vitamins Β2, E, selenium and zinc: contribute to the protection of cells from oxidative stress *
Vitamins Β6, Β12, zinc and selenium: contribute to normal function of the immune system*
Vitamins Β1, Β2, Β6, Β12, niacin, biotin: contribute to normal functioning of the nervous system*
Vitamin Β12: have a role in the process of cell division*
Vitamin Β1: contribute to the normal function of the heart*
Vitamin Β2: contributes to the maintenance of normal red blood cells*
*Official claims by the European Food Safety Authority (EFSA).
| | | |
| --- | --- | --- |
| Active ingredients | per  30ml | % D.R.I.* |
| Vitamin E (a–TE) | 24mg | 200% |
| Niacin (ΝΕ) | 16mg | 100% |
| Pantothenic acid | 6mg | 100% |
| Zinc | 5mg | 50% |
| Vitamin Β2 | 2.8mg | 200% |
| Vitamin Β6 | 2.8mg | 200% |
| Vitamin Β1 | 2.2mg | 200% |
| Biotin | 100μg | 200% |
| Selenium | 55μg | 100% |
| Vitamin Β12 | 5μg | 200% |
| Enzyme yeast cells Dr. Wolz ® | 19g (200 billions) | |
*D.R.I.: Daily Reference Intake
Take 2-3 tablespoons (20-30 ml) per day diluted in a juice of your choice (e.g. apple juice), preferably after meal. Shake well before using. Store in the refrigerator after first opening.
Free from
Gluten, lactose, gelatin, colorants and preservatives
Content
250 ml
Diabetics
20 ml of the product contain 4.8 g of carbohydrates or 0.4 BU (1 BU = Bread Unit equals to 12 g of carbohydrates).
Seal carefully after use. Keep in a cool, dry place (up to 25 οC), out of sight and reach of children. Keep the product away from heat, light or humidity. Do not exceed the recommended daily dose.  Food supplements should not be used as a substitute of a balanced diet. This product is not intended to prevent, treat or cure human disease. Consult your doctor if you are pregnant, nursing, taking medication or facing health problems.
Approval Number of NOM (National Organization for Medicines): 2834/F.S.-348/23-01-2003