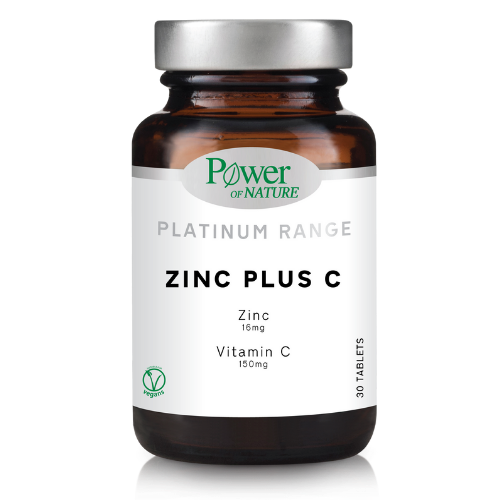 Zinc is one of the most important minerals for our body. It is mainly stored in muscles, bones and skin. In men, the highest percentage of zinc in the body can be found in the prostate gland. However, it is necessary for the proper functioning of every human cell.
Zinc Plus C offers the amount zinc necessary for the proper function of the body. As a trace element, zinc is required in very small quantities, so it is important that these few milligrams are highly absorbable. The salt of zinc citrate in this specific amount and in combination with vitamin C, ensures its maximum bioavailability.
Zinc contributes to:
Normal acid-base, carbohydrate, fatty acid macronutrient metabolism*.
Normal cognitive function*.
Normal DNA synthesis*.
Normal fertility and reproduction*.
Normal macronutrient metabolism*.
Normal protein synthesis*.
The maintenance of normal bones*.
The maintenance of normal hair, nails and skin*.
The maintenance of normal testosterone levels in the blood*.
The maintenance of normal vision*.
The process of cell division*.
Zinc and vitamin C contribute to:
The normal function of the immune system*.
The protection of cells from oxidative stress*.
*Official claims by the European Food Safety Authority (EFSA).
Zinc Plus C is a Food Supplement suitable for:
People on a less balanced diet
Men
People with increased needs
| | |
| --- | --- |
| Active ingredients | per tablet |
| Zinc (Zn) | 16 mg |
| Vitamin C | 150 mg |
Take 1 tablet before your meal.
Free from
Sugar , gluten , lactose, preservatives
Content
30 tablets
Pregnancy / Breastfeeding
Consult your doctor if you are pregnant, breastfeeding, you are under medication or experiencing health problems.
Seal carefully after use. Keep in a cool, dry place (up to 25 οC), out of sight and reach of children. Keep the product away from heat, light or humidity. Do not exceed the recommended daily dose.  Food supplements should not be used as a substitute of a balanced diet. This product is not intended to prevent, treat or cure human disease. Consult your doctor if you are pregnant, nursing, taking medication or facing health problems.
Notification Number of NOM (National Organization for Medicines): 47777/14-06-2013
The notification number of NOM is not a marketing authorization.