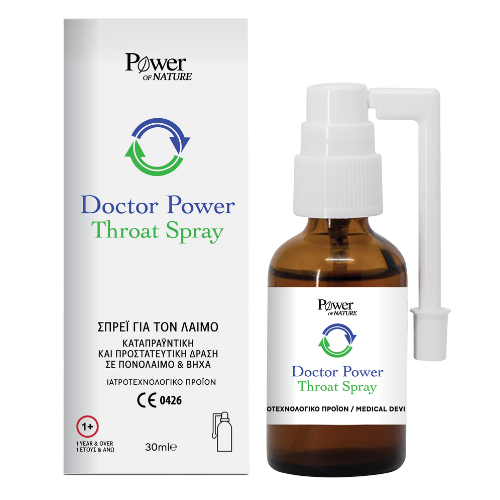 Doctor Power Throat Spray
High innovative mucoadhesive delivery system
Doctor Remedy Throat Spray is a medical device indicated to relieve throat irritation associated with cough, pain, burning sensation and swallowing sensitivity. Thanks to a protective film with a barrier effect, it coats the oral cavity protecting it from the contact with irritating external agents.
It works by calming cough and irritation of the oral cavity (pharyngitis, tonsillitis, hoarseness), it promotes the hydration of the mucosa, fosters the fluidification and expulsion of mucus and irritants.
In case of frequent exposure to external agents (cold, smoke, smog, temperature changes), it helps preventing and reducing dryness and burning sensation in the throat, pain and sensitivity while swallowing.
This product is suitable for adults and children of over 1 year of age.
Demineralized water, fructose, hydroglyceric extract of Propolis, dry extracts of Iceland moss and English Plantain, rich in Polysaccharides, Aloe vera leaf gel powder, Blueberry, Sodium hyaluronate, Resveratrol, Vitamin C, glycerol, flavor, Arabic gum, carboxymethylcellulose, orange o.e., steviol glycosides, potassium sorbate.
DOSE, METHOD AND TIME OF ADMINISTRATION
It is recommended for:
Adults and children older than 6 years: 4 nebulizations directly in the oral cavity,
Children older than 1 year: 2 nebulizations directly in the oral cavity,
to be repeated 3 times a day, or according to your doctor's, up to a maximum of 6 times a day.
It can be used at any time of the day. It is advisable not to swallow food or drink for at least 30 minutes after use. The duration of use depends on the evolution of the symptoms; if for improvement purposes, it can be taken for a prolonged period. The duration of treatment should not exceed 30 days. Shake before use. Once opened, use the product within 3 months.
INSTRUCTIONS FOR USE
shake the product;
rotate the dispensing cannula in a horizontal position and remove the dispenser cap;
introduce the end of the dispensing cannula into the oral cavity, directing the nebulizer on the interested part;
press the button of the dispenser fully, exerting continuous pressure until the dispensed dose is used up. Keep the bottle vertical while using. Press again to obtain a subsequent dispensing, until the indicated dose is completed;
after the dispense, close the dispenser again with the special cap and fold the dispensing cannula into a vertical position.
Free from
Gluten, lactose.
Content
30 ml
Keep out of reach of children. Do not use the device beyond the expiration date or if the package, when first opened, is damaged or not intact. Do not dispose of the container in the environment after use.
CONTRAINDICATIONS
Do not use the product in case of known hypersensitivity or incompatibility with even a single component of the formulation. No studies have been conducted during pregnancy and lactation, before taking the product seek for your doctor's advice.
Doctor Power Throat Spray is a registered medical device. The effectiveness and safety were assessed according to the European Directive concerning Medical Devices (93/42/EEC).