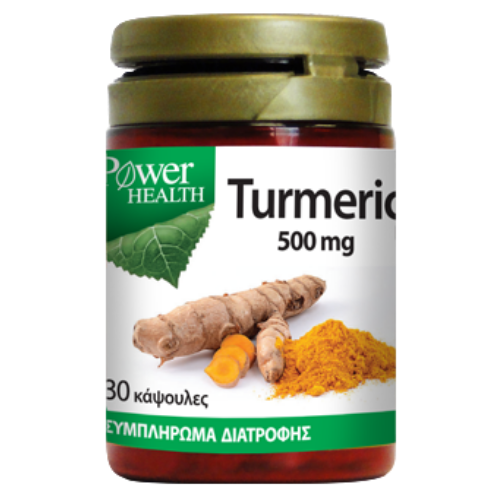 It attributes 500mg turmeric per capsule.
It comes from India, as an ingredient in curry blends that offers exotic flavor and beautiful color to our food. It has attracted the interest from researchers and scientists since Curcuma is a spice of real gold. Its main ingredient is curcumin, which has excellent properties.
The Power Health Turmeric offers you the unique benefits of a high quality food supplement.
Each capsule contains
500mg turmeric.
Adults:
Take 1-2 capsules daily.
Free from
Sugar, Gluten, Lactose, Preservatives
Content
30 capsules
Seal carefully after use. Keep in a cool, dry place (up to 25 οC), out of sight and reach of children. Keep the product away from heat, light or humidity. Do not exceed the recommended daily dose.  Food supplements should not be used as a substitute of a balanced diet. This product is not intended to prevent, treat or cure human disease. Consult your doctor if you are pregnant, nursing, taking medication or facing health problems.
Notification Number of NOM (National Organization for Medicines): 44151/26-06-2915
The notification number of NOM is not a marketing authorization.